NTT Corporation (NTT) has developed a first-ever ultra-low latency video-transmission technology capable of transmitting and receiving uncompressed 8K120p video*1 in the SMPTE ST 2110*2 over optical paths. 8K120p is the video format with the highest resolution and frame frequency defined in the Ultra-high Definition Television (UHDTV) standard. SDI*3 signals are directly collected in an optical transponder and can be directly sent out into a large-capacity optical path in uncompressed SMPTE ST 2110, enabling long-distance and ultra-low latency video transmission. Furthermore, direct mapping of 8K120p video from SDI to SMPTE ST 2110 using SMPTE RP 2110-23, a method for dividing video data into multiple streams, achieves a delay of less than 1 ms between the video input at the transmitting end and video output at the receiving end. Using long-distance and ultra-low latency video-transmission enabled by this technology, NTT aims to offer the highest-quality video communication without any awareness of distance.
 A transmission experiment of uncompressed 8K120p video using the Innovative Optical and Wireless Network (IOWN) All-Photonics Network (APN) will be conducted at "OPEN HUB Park," a co-creation workplace NTT Communications (NTT Com) has opened February 22, 2022. (*)
(*)Please see the following sites for details of "OPEN HUB for Smart World" and "OPEN HUB Park."
https://openhub.ntt.com/

https://www.ntt.com/about-us/press-releases/news/article/2022/0222.html
1. Background
The demand for transmission of large-capacity video, such as 4K and 8K, is increasing for various applications such as broadcasting, medical care, and monitoring. In the broadcasting industry, remote production, a new live-broadcast program-production workflow in which video material is transmitted over the network from the broadcast site to the broadcast station for production at the broadcast station, is attracting attention (Figure 1). Although uncompressed video transmission is ideal in terms of the quality and the latency, the data rate of 8K120p video, the video format with the highest resolution and frame frequency in the UHDTV standard, is over 80 Gbps, and when redundant transmission is applied for higher reliability, the data rate will exceed 160 Gbps, making it difficult to transmit over long distances using existing IP network services.
2. Technology Overview
NTT has developed a first-ever ultra-low latency video-transmission technology that supports uncompressed 8K120p video in the SMPTE ST 2110. SDI signals are directly collected in an optical transponder and can be directly sent out into a large-capacity optical path in uncompressed SMPTE ST 2110, enabling long-distance and ultra-low latency video transmission. In addition, direct mapping of 8K120p video from SDI to SMPTE ST 2110 using SMPTE RP 2110-23 has reduced the delay. As a result, the delay from video input at the transmitting end to video output at the receiving end is less than 1 ms when the fiber propagation delay is negligibly small.
 Optical transponders used for long-distance communication had been provided with all functions, including hardware and software functions, as a single unit by a single manufacturer, making it difficult for the service providers to implement additional functions such as video-transmission. However, disaggregation configuration has been attracting attention because it enables flexible configuration changes, additional implementations, and cost reduction by separating various functions of optical transponders and controlling them with a standardized interface. We implemented a hardware plug-in unit (VideoPIU) that converts SDI signals to SMPTE ST 2110 streams for optical transponders with a disaggregated configuration and implemented a software function to control the VideoPIU (Figure 2 right). The VideoPIU is capable of processing 8K60p video per unit, and 8K120p transmission is achieved by coordinated operation of two units (Figure 2 left). 8K120p video is divided into two streams temporally and four streams spatially, for a total of eight streams, by SMPTE RP 2110-23, and is transmitted by eight parallel synchronous processing to achieve more than 160 Gbps throughput. As shown in Table 1, 8K120p video-transmission system was implemented using Galileo 1, an optical transponder whose open hardware design is published in TIP*4, and OcNOS®*5 as network OS.
 NTT has announced the IOWN concept as the communication infrastructure that will support the smart world of the near future and is conducting research and development. The APN is one of IOWN's three key technology areas. With the APN, high-capacity video can be sent and received with ultra-low latency through an end-to-end optical path, enabling the highest-quality video communication regardless of distance. It is expected to be applied to a wide range of use cases such as remote production, telemedicine, and remote monitoring.
3. Technology Points
Disaggregation configuration: The implementation of the video-transmission function in the optical transponder with a disaggregation configuration enables the additional implementation of software functions, such as integrated control of video transmission, networking, and security in the future, making it easier to customize the device in accordance with the application.
Interoperability: The timestamp offset processing between the streams conforms to the timestamp rule for the SMPTE RP 2110-23 temporal division without increasing the delay, thus ensuring interoperability.
Robustness: Seamless protection (SMPTE ST 2022-7), which protects video data through redundant transmission using multiple optical paths, is supported. Furthermore, timing control at the transmission end makes it possible to protect video data against larger differences in delay time between optical paths, thereby enhancing robustness.
4. Future Plans
NTT will conduct a video transmission experiment of uncompressed 8K120p using the IOWN APN at "OPEN HUB Park," a co-creation workplace NTT Com has opened February 22, 2022. NTT will also promote technology development and field demonstrations with the aim of applying the technology to various domains.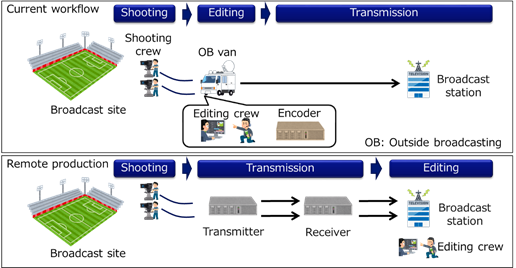 Figure 1: Comparison of current workflow and remote production
Figure 2: Uncompressed video transmission system using disaggregation configuration
Table 1: Implementation details for uncompressed 8K120p video transmission
| | |
| --- | --- |
| Video interface | 12G-SDI×8 |
| Number of pixels | 7680 (horizontal)×4320 (vertical) |
| Frame frequency | 119.88 Hz |
| Color sampling | 4:2:2 |
| Optical transponder | Galileo by Wistron |
| Network OS | OcNOS by IP Infusion |
Glossary
(*1)8K120p video:
A video format consisting of horizontal 7,680 pixels, vertical 4320 pixels, and frame frequency 120 Hz. The UHDTV standard defines 120 Hz although the current standard frame frequency is 60 Hz. In addition, the method of sending all pixels without dividing a frame into odd and even lines is called progressive, and the 8K, 120 Hz, progressive video format is described as "8K120p."
(*2)SMPTE ST 2110:
A video-transmission standard for broadcast program-production defined by the Society of Motion Picture and Television Engineers (SMPTE) that transmits video, audio, and ancillary data in the separate streams.
(*3)Serial Digital Interface (SDI):
A video transmission interface using coaxial cable, which is widely used in broadcasting facilities. Although SMPTE has standardized 12G-SDI, which transmits 4K video over a single coaxial cable, the transmission distance is limited to about 100 m, so it is being replaced with SMPTE ST 2110.
(*4)Telecom Infra Project (TIP):
A global community that promotes the development and deployment of open, disaggregated, and standardized technology solutions. It is a non-profit organization established in 2016 with the aim of accelerating innovation in the telecom field.
(*5)OcNOS:
A network OS for white boxes developed and provided by IP Infusion that can support a wide range of use cases from telecom carriers to data centers with a single source. It is being adopted by carriers around the world seeking openness and disaggregation that comply with TIP specifications. NTT and ACCESS Co. Ltd, the parent company of IP Infusion, established a partnership in July 2021.
https://www.ipinfusion.com/products/ocnos/

https://group.ntt/en/newsrelease/2021/07/27/210727a.html