As part of R&D efforts into technologies for digitizing embodied knowledge (i.e., experiential knowledge rooted in the human body, such as physical intuition, hunches and sensitivity), which can dramatically enhance the acquisition and exercise of human physical skills and abilities, Nippon Telegraph and Telephone Corporation (NTT; headquartered in Chiyoda-ku, Tokyo; President & CEO: Akira Shimada) is collaborating with the Japan Windsurfing Association (JWA) to develop and evaluate a training method that enhances the competitive performance of windsurfers.
 Based on its latest results, NTT will conduct an experiment and host an exhibit demonstrating an NTT-developed physical sensation reproduction simulator at the ANA Windsurfing World Cup Yokosuka-Miura to be held from November 11 to 15, 2022*1. By utilizing the evaluation results and knowledge obtained from both the experiment on remote operation using the Human Augmentation Platform®*2 and the exhibit, NTT will accelerate research into embodied knowledge, thereby contributing to improving the competitive performance of top athletes and increasing the number of athletes and spectators at sporting events.
1. Background and Overview
With the aim of enhancing natural human abilities through ICT, NTT is developing technologies for digitizing physical knowledge (i.e., experiential knowledge rooted in the human body, such as physical intuition, hunches, and sensitivity), which can dramatically enhance the acquisition and execution of physical skills and abilities. As one specific example, we have focused on unknown embodied knowledge that will improve the competitive performance of athletes using an iQFOiL*3, which is to be adopted as the official board for windsurfing events from Paris Olympics. We concluded a joint experiment agreement with JWA in 2021. Since then, over a period of more than a year, we have been collecting and analyzing data relating to the performance of Japan's top athletes, and that of their equipment, during competitive events, and conducting interviews with them based on the collected data. As a result of these efforts, we have created an analysis method for identifying the conditions that produce the unique physical sensations that are associated with high performance. We are expanding the scope of our study to include methods for incorporating embodied knowledge into training practice, including the development of a physical sensation reproduction simulator that enables people other than the athletes concerned to share and experience the unique physical sensations experienced during high-level competition based on the information we have collected on the specific conditions that produce those sensations.
 Building on our latest results, at the ANA Windsurfing World Cup Yokosuka-Miura to be held in November 2022 for the first time in three years, we will conduct a verification experiment using technology that enables the physical sensations felt by athletes on the water to be instantly reproduced by a simulator on land via NTT DOCOMO's 5G network and Human Augmentation Platform® so that a coach can share the subjective sensations that athletes experience during competition as if they were on the same board, which has never been possible before. We will receive evaluation feedback from athletes and athletics officials from around the world on the effectiveness of these efforts and technologies. In addition, together with JWA, we will provide the general public with hands-on experience of the physical sensations experienced by athletes participating in windsurfing competitions, including through simulator demonstrations, in an effort to increase public interest in the sport.
 (This initiative will be introduced at the Executive Committee press conference scheduled for October 13.)
2. Key points of the technology
・Identification and sharing of embodied knowledge
Technology to identify the state in which physical sensations rooted in embodied knowledge are generated in top athletes during competition, and to reproduce that state to enable other people to share the sensations of embodied knowledge that top athletes experience.
・Immediate transfer of the sensations of embodied knowledge
Technology to accurately reproduce in real-time an athlete's core experience, while allowing for simulator operating conditions, even from data sensed in an unstable environment on the water. And flexible sensor data network connectivity utilizing 5G networks and the Human Augmentation Platform®.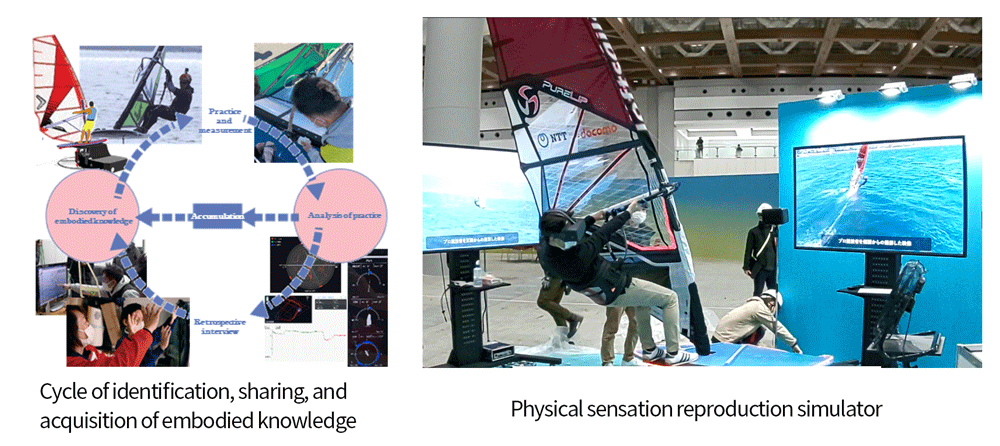 3. Future activities
Based on the evaluations and knowledge gained from this experiment and exhibit, we will accelerate the enhancement and practical application of embodied knowledge technology and continue to collaborate with JWA to contribute to the heightened performance of top athletes in future high-level international competitions, such as World Cups and the Olympics, as well as activities that will increase the number of athletes and spectators involved in such events.
 In addition, embodied knowledge technology, which aims to enable people to share their subjective physical senses with others via ICT, serves as one of the technological foundations of IOWN, which aims to link the "Umwelt" of diverse people through ICT. By combining it with other core IOWN technologies, including Human Augmentation Platform®, we aim to realize a service infrastructure that enables diverse people to expand and demonstrate their abilities, including in sports.
*1Outline of the Windsurfing World Cup
Competition Name: ANA Windsurfing World Cup Yokosuka-Miura
 Period: Friday, November 11 - Tuesday, November 15, 2022
 Venue: Tsukuihama Beach
 Organizer: ANA Windsurfing World Cup Yokosuka-Miura Executive Committee
[Executive Committee Members]
All Nippon Airways Co., Ltd., Keikyu Corporation, Japan Windsurfing Association, Kanagawa Prefecture, Yokosuka City, and Miura City
https://www.anahd.co.jp/group/pr/202209/20220902.html
*2Human Augmentation Platform® is a registered trademark of NTT DOCOMO.
*3iQFOiL = (Innovation Quality Foil)
The official board for the Olympic windsurfing class to be adopted from the 2024 Paris Games. It features airplane-like underwater wings that hang below the bottom of the board. When the sail catches the wind and the board starts to accelerate, the underwater wings generate lift, raising the board and the windsurfer above the surface of the water. This dramatically reduces the resistance caused by contact with the water as compared with conventional boards, and it enables the board to gain speed very efficiently even in light winds.