Tokyo — August 2, 2023 — NTT Corporation (NTT), NTT Life Science Corporation, Juntendo University, a soccer team Omiya Ardija [1] and a rugby team Urayasu D-Rocks [2] have embarked on a joint research project to develop a sports support project to strengthen athletes and teams and prevent sports injuries using scientific data and analysis in various sports. Through a year-long joint research, we aim to create an individualized program based on the results of genetic analysis. NTT Life Sciences aims to provide services that sustainably support people and organizations involved in sports by providing evidence-based data driven methods that contribute to the improvement of athlete's performance, prevention of sports injuries, and team management.
[1]Operated by NTT Sports Community Corporation
[2]Operated by NTT Sports X
1. Joint Research Period
April 1, 2023 - March 31, 2024
2. Details of Initiatives
In the development of athletes in competitive sports, it is common to use training menus based on past examples to improve athletic performance. However, research has shown that there are individual differences in training effectiveness among athletes, even when training the same content, quantity, and quality. The reason for the differences is being discovered every day, and it is expected that specific counter-measure will be implemented.
 In addition, when team management changes, they tend to start building teams based on the know-how of the leaders. It is best to pass on past information as data and use it to manage and strengthen teams.
 This joint research will comprehensively analyze the results of genetic analysis related to sports in athletes, in addition to information that teams and individual athletes use such as the number of steps taken during games and practice, lifestyle habits such as meals, medical examination results, image data for motion analysis, etc. The training programs derived from this analysis are provided to players and teams, and the effects of using them are examined over a certain period. (Figure 1)
 To date, we have established a verification system with experts who participate in the creation of an environment for analyzing each team and player, and are now conducting genetic tests and analysis. The progress and results of this initiative will be shared through press and academic presentations.
"There are times when a player of a certain team turns from poor performance to a good performance, and vice versa. This may be because the team's strategy and training methods coincidentally matched or mismatched the player. In order to develop a method that can prevent such a mismatch and maximize the performance of each athlete, we need to examine various aspects such as environmental factors such as training, nutrition, and genetic factors." said Noriyuki Fuku, Senior Associate Professor of Juntendo University Graduate School of Health and Sports Science
[Role of each party]
Juntendo University
Based on the knowledge of genetic analysis and athlete development and management related to athletic performance and sports injuries and disabilities, Juntendo is responsible for examining analysis methods such as genetic analysis, interpreting analysis results, and constructing individualized programs. Daiki Suzuki, Director of the Juntendo Administration for Sports, Health and Medical Sciences will take the lead, and researchers and doctors from multiple fields will work together. (Figure 2)
NTT Group
NTT Group is responsible for genetic analysis, personalized program validation and data analysis for professional sports teams Omiya Ardija, Omiya Ardija VENTUS and Urayasu D-Rocks. NTT plans to provide players and teams with tools for daily training, team practice, and game analysis based on the NTT Group's IoT, AI, and other information and communication technologies and image analysis technologies. In addition, with the aim of furthering the development and contribution to the world of sports, we will implement this research in society by utilizing the assets of each NTT Group company.
This joint research is aimed at professional sports teams belonging to the NTT Group. In order to expand the results of this joint research, from FY 2023, we plan to invite participants from sports organizations outside the NTT Group as well as companies with knowledge of diverse analysis methods and data analysis. We will also expand the variety of sports events and diversify the individualized programs we offer.
3. NTT Life Science Business Vision
NTT Life Sciences will provide individualized programs to athletes using the methods established in this research to improve athletic performance and prevent sports injuries. In addition, we will provide an environment that sustainably supports people and organizations involved in sports by providing evaluation from a new perspective in strengthening teams.
 The results obtained through this joint research will be used not only for top athletes, but also for the sound and effective training methods of the young athletes, amateur athletes, and safety management of school sports. (Figure 3)
About NTT
NTT contributes to a sustainable society through the power of innovation. We are a leading global technology company providing services to consumers and business as a mobile operator, infrastructure, networks, applications, and consulting provider. Our offerings include digital business consulting, managed application services, workplace and cloud solutions, data center and edge computing, all supported by our deep global industry expertise. We are over $100B in revenue and 330,000 employees, with $3.6B in annual R&D investments. Our operations span across 80+ countries and regions, allowing us to serve clients in over 190 of them. We serve over 75% of Fortune Global 100 companies, thousands of other enterprise and government clients and millions of consumers.
Media Contact
R & D Marketing Division
Name: Seyama, Wakana
E-mail: sports-support-serv@ntt.com
NTT
Public Relations
E-mail: ntt-pr@ntt.com
Figure 1
Efforts Verification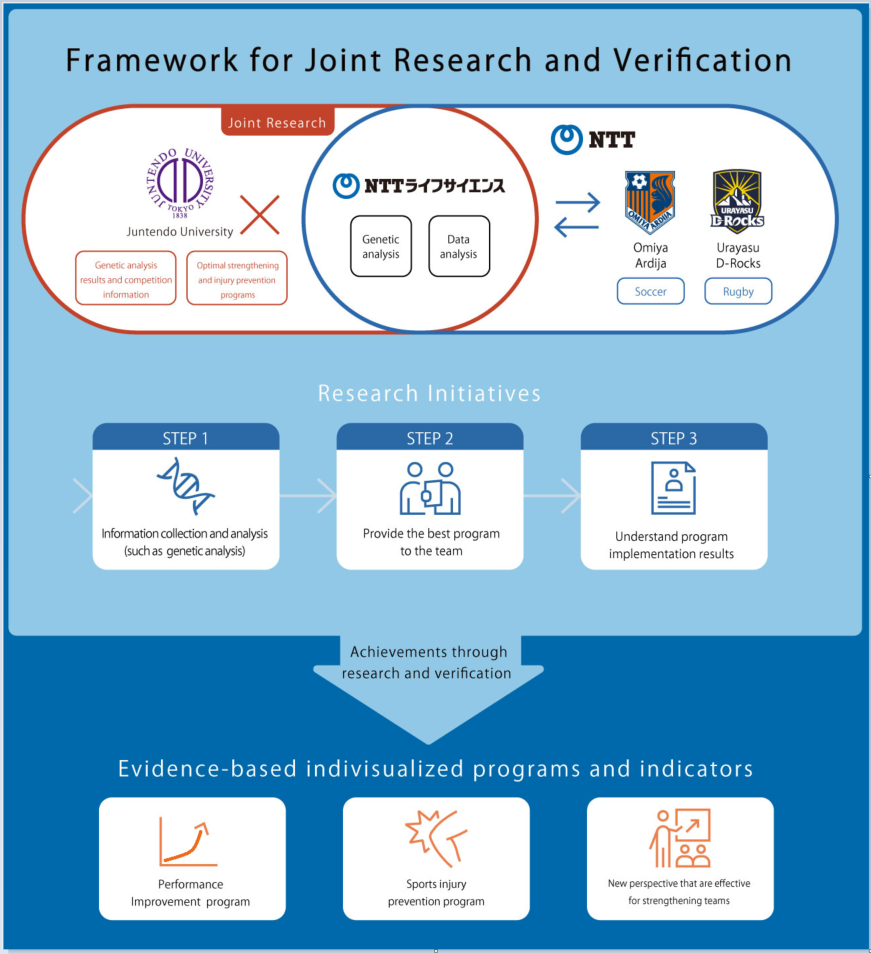 Figure 2
Main Members from Juntendo University
Figure 3
Business Image