The NTT Sustainability Office has held the NTT Group Sustainability Conference every year since 2013. This year saw the 10th conference at the Palace Hotel in Tokyo, on June 12, where the six highest award-winning solutions and six excellence award-winning solutions were presented.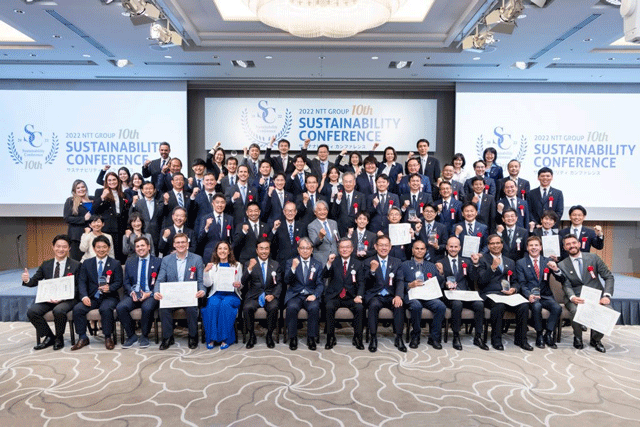 1) What is the NTT Group Sustainability Conference?

The NTT Group Sustainability Conference has been held annually by the NTT Sustainability Promotion Office since fiscal 2013. It showcases measures that contribute to a sustainable society from NTT Group companies, both domestic and international.
The conference aims to encourage all employees to view sustainability management as their responsibility, fostering a collaborative atmosphere for co-creating a sustainable society with stakeholders. This is achieved by recognizing and sharing the latest outstanding initiatives and expertise of NTT Group companies that have advanced telecommunications and technology infrastructure.
In an effort to further underscore its commitment to sustainability, NTT Group restructured its existing CSR Charter and established the Sustainability Charter on November 10, 2021. Based on this charter, NTT Group is promoting a range of initiatives aimed at realizing a sustainable society through "growth as a company" and "solutions to social issues," alongside promoting the IOWN concept, which emphasizes high ethical standards, cutting-edge technology and innovation.
Currently, NTT Group is addressing nine challenges and carrying out 30 activities under the three themes of "Coexistence with Nature (the Earth)," "Mutual Prosperity of Culture (Group, Society, and Country)," and "Maximization of Well-being (Happiness).
2) Features of the 10th NTT Group Sustainability Conference
A total of 113 initiatives were submitted by NTT Group companies from Japan and overseas for the 10th awards ceremony. The awards ceremony was attended by NTT President and CEO Akira Shimada, senior executives, and vice presidents from major group companies, and attracted extensive media coverage. Each presentation, ranging from unique ideas utilizing cutting-edge technologies to addressing international social issues, offered valuable insights for business professionals.
While many of the entries in the early years of the conference focused on CSR or philanthropic projects, there has been a gradual shift toward business-related activities over time. This year's Sustainability Conference saw an increasing number of projects characterized by partnerships. In particular, winning initiatives featured a high number of such partnerships.
At the awards ceremony, those responsible for the 12 initiatives, including the six Grand Prize winners and six Excellence Award winners selected through a preliminary screening process, presented their work.
3) Making Sustainability the Axis of Business
At this 10th NTT Group Sustainability Conference Awards Ceremony, Akira Shimada, President and CEO of NTT, delivered his remarks and general comments.
Regarding the awards ceremony, Mr. Shimada said, "Every year, the number of CSV (Creating Shared Value: business plans and promotional measures that solve social issues through business) proposals increases. Through this initiative, we hope to offer something of value to the world and make sustainability our business." He added, "The award-winning measures of 10 years ago have had a global impact. I look forward to reflecting on today's announcement in a decade's time and acknowledging the significant progress made."
4) Introduction of the six Grand Prize winners and six Excellence Award winners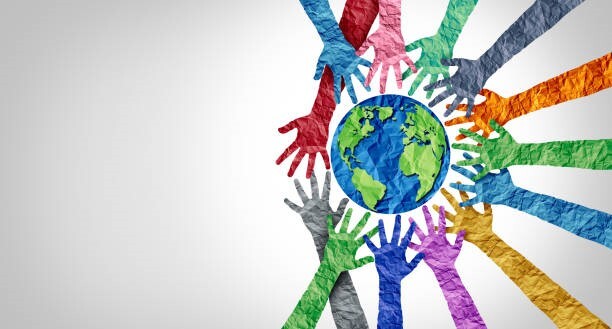 Each initiative underwent rigorous review based on the following criteria:
Contribution to society (Did it contribute to solving social issues?)
Contribution to business (Does it contribute to corporate growth?)
Utilization of core values (Is the initiative possible "only because of NTT Group"?)
Relationship with stakeholders (Does the initiative meet the needs of stakeholders?)
Sustainability (Can it be implemented on an ongoing basis?)
Following this process, six initiatives were selected for the Grand Prize, and another six for the Excellence Awards.
Grand Prize
Solution 1: "A New Form of Energy Self-Sufficiency: 'Public-Private Integration x Local Production for Local Consumption' Green BPO Center Using On-site PPA6"
Company (Policy Area): NTT DATA Corporation (Okinawa)
Overview: Achieving carbon neutrality through local production for local consumption
Solution 2: "Take off with Sustainability"
Company (Policy Area): NTT DATA Business Solutions (Eastern Africa: Malawi)
Summary: Building a medical supplies supply chain using drones
Solution 3: "Realization of Sustainable Fishery Support through Fishery DX and Freshness Visualization - Development of the ISUMI Model through Community-based Fishery DX"
Company (Policy Area): NTT East Japan Corporation - South Kanto (Chiba)
Summary: Realization of sustainable fishery support through fishery DX and freshness visualization
Solution 4: "Predictive Medication Procurement"
Company (Policy Area): NTT Nihilent, NTT Innov Lab Isr Predictive (Israel)
Summary: Predictive Medication Procurement using an optimal inventory prediction model to realize a medication procurement system without excess or deficiency
Solution 5: "Realization of a Carbon-Neutral Society through Forest and Forestry DX: Realization of a Resource Recycling-Oriented Society"
Company (Policy Area): NTT West Corporation (Miyazaki)
Summary: Contributing to the stable supply and promotion of the use of domestic timber by DXing forests and forestry, and achieving a carbon-neutral society
Solution 6: "Smart Recycling at Scale (Container Parks)"
Company (Policy Area): NTT Ltd (Belgium)
Summary: Improvement of recycling park convenience (UX) through AI
Excellence Award
Solution 1: "Urban Development Aimed at Creating a 'Sendai Ecosystem'"
Company name: NTT Urban Solutions Corporation (Sendai)
Summary: Urban development through reconstruction of Urbannet Sendai Chuo Building using Group land
Solution 2. "Digi Kids"
Company name: NTT Poland Sp. z o.o. (Poland)
Summary: Supporting the organization of the "DigiKids program" to help children in war-affected Ukraine develop digital skills
Solution 3. "Next-generation Human Resource Development through 'Embot'"
Company name: e-Craft Co.
Summary: Provides "embot," a programming service that enables users to learn the basics of manufacturing and programming while having fun
Solution 4: "Sustainability of German Data Centers"
Company name: NTT DATA Business Solutions Germany
Overview: Operation of a highly efficient data center that uses 100% green power
Solution 5. "'Sustainable' Smart Terraced Rice Paddy Farming from a Remote Island x First in Japan"
Company Name: docomo Business Solutions (Sado Island, Japan)
Summary: Conducting demonstration experiments using ICT to promote pesticide-reduced, pesticide-free, and chemical-free cultivation with the aim of reducing costs, reducing labor, and increasing profits
Solution 6: "NTT Academy and IT For Girls for a Sustainable Future"
Company name: NTT Ltd (Brazil)
Summary: Providing technical training to those who cannot afford it through collaboration between the Academy and the IT for Girls program for quality education and gender equality.
What the six Grand Prize winners have in common is their utilization of partnerships in solving complex issues. One characteristic of this year's awards is the number of initiatives based on the belief that "true sustainability can only be achieved when various stakeholders, including local residents, businesses, start-ups tackling new innovations, NTT's partner IT vendors, research institutions, and government agencies, all work together towards the same goal.
In the next issue, we will introduce three of the six Grand Prize winners. We'll detail the initiatives and explain why they were highly rated. Please stay tuned.
News Release
Awards Ceremony Held for the 10th NTT Group Sustainability Conference - Toward Innovating a Sustainable Future for People and Planet
https://group.ntt/jp/newsrelease/2023/06/12/230612a.html
For media inquiries, please contact
Nippon Telegraph and Telephone Corporation
Public Relations Office
ntt-pr@ntt.com