On June 12, 2023, the 10th NTT Group Sustainability Conference Awards Ceremony was held at the Palace Hotel Tokyo (Chiyoda-ku, Tokyo). Six initiatives were selected from a total of 113 submitted by NTT Group companies in Japan and overseas as the Grand Prize winners.
This issue of the newsletter focuses on three of the six initiatives that won the Grand Prize. What kind of measures were evaluated? What are their plans for the future? We will describe the efforts of the three NTT Group companies in pursuit of "sustainability," in which companies solve social issues while at the same time growing their business.
< Part 2 of 3 / Click to Part 1, Part 3 >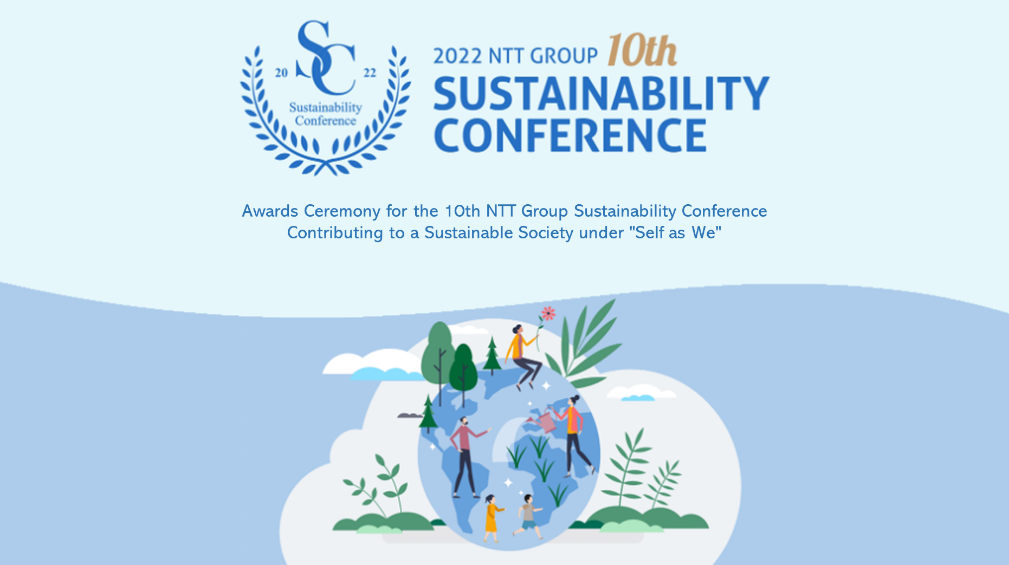 1) Building a Medical Supplies Supply Chain Using Drones: The Challenge in Malawi to Save Lives and Create Jobs

The project was implemented by NTT DATA Business Solutions, an NTT DATA Group company with strengths in supporting the implementation of SAP solutions. In Malawi, a country located in southeastern Africa, the transportation of medical supplies from medical centers to clinics used to take an entire day due to inadequate road infrastructure.
To solve this problem, the company has built a medical supply chain in Malawi in eastern Africa using the "Wingcopter," a high-performance drone, to enable local procurement of more than 100 types of medical supplies in about 20 minutes. In addition, by training local young people to become "Wingcopter" drone pilots, employment opportunities were created, contributing to solving social issues from two aspects: "saving lives" and "improving lives."
The key to the success of this measure was the extension of the Wingcopter's digital capabilities through a new digital logistics platform provided by Cloud. The company was recognized for the fact that the drone enabled local procurement of more than 100 types of medical supplies in about 20 minutes, its contribution to the creation of jobs for local youth through the training of drone pilots, and its high affinity with NTT Group's business.
In the future, the company plans to expand the service to include food delivery in areas where normal transportation is difficult.
2) Improving Recycle Park Convenience (UX) with AI - Realization of Smart Recycling Solution through Real-time Detection of Container Fill Rate

The initiative was implemented by NTT Ltd. (Belgium). It utilizes AI technology to read the amount of garbage in real time and analyze it in combination with historical data to predict the optimal timing for taking out and collecting recycling containers. This has eliminated the problem of containers being full and garbage not being dumped, allowing people to use the recycling park without stress and preventing people from dumping garbage on the street or in the wild.
Furthermore, the fuel costs for collection trucks and CO2 emissions have been minimized. In short, the evaluation point of this initiative is that by incorporating container detection and monitoring AI technology by NTT, a system was created that reads the amount of garbage in real time, analyzes it in conjunction with historical data, and predicts the optimal timing for container replacement. This has not only improved convenience for city residents and prevented illegal dumping, but also minimized fuel costs and CO2 emissions from collection trucks.
In the future, the company aims to apply this system to other areas and industries to improve resource allocation, improve operational wardenship, and reduce environmental impact.
3) Realization of a Carbon Neutral Society through Forest and Forestry DX - Realization of a Resource Recycling Society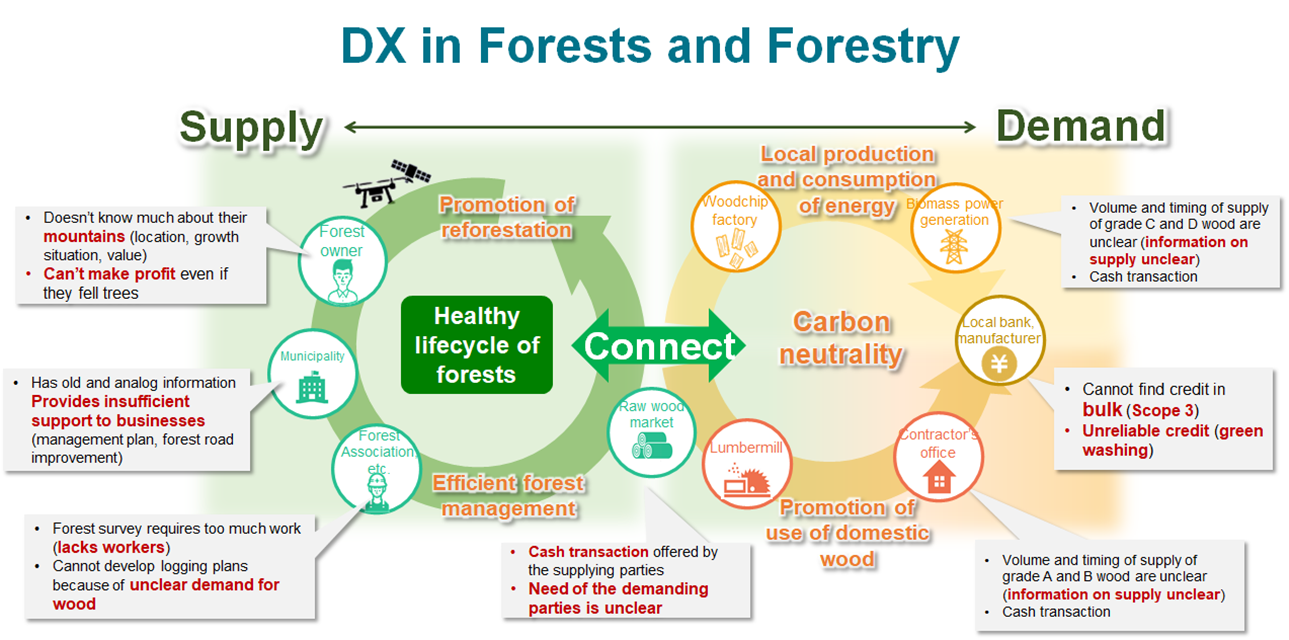 The initiatives were implemented by NTT WEST. Currently, forests cover two-thirds of Japan's land area. About 60% of this is private forest land of less than 10 ha, half of which has reached the appropriate age for logging. Due to the recent shortage of forestry workers, the "wood shock" and other issues related to the security of timber supply, the healthy lifecycle of forests, which involves cutting, using, planting, and nurturing, is not being maintained. To address this issue, NTT WEST provided a "Forest Cloud" app that enables users to view data on various types of forest information, such as the number and type of trees, asset value, and CO2 absorption, on their smartphones and tablets through measurement using drones and satellites and AI analysis. This has enabled the company to reduce forest survey operations to one-thirtieth the amount of labor required in the past. In addition, forests have become an asset for the region, and by connecting forest owners and material producers in the cloud without going through the log market, transactions can be concluded at prices about 2% higher than those in the general lumber market.
In addition to contributing to the stable supply and promotion of the use of domestic timber, the project also contributes to the realization of carbon neutrality for both local communities and companies by redirecting carbon credit profits back into creating richer forests. The expected revenue from carbon credits is 300 million yen.
The key evaluation point of this initiative is that by connecting the forest supply side with local banks and companies through the forest cloud, the issues faced by each player can be resolved, while at the same time contributing to carbon credits. The measure was also highly evaluated for its use of NTT Group's technologies and know-how, including Japan Infra Waymark's high-definition drone measurement technology and NTT InfraNet's AI analysis technology.
By continuing to develop forestry and forestry DX, we aim to create a resource-recycling society in which "people, capital, and technology" flow seamlessly.
4) Aiming for Sustainability into the Future
In May this year, NTT Group announced its medium-term management strategy, "New value creation & Sustainability 2027 powered by IOWN."
Based on this strategy, the group is aiming to realize new value creation and the sustainability of the planet, and is actively advancing various initiatives.
Next time, we will introduce the remaining three of the six initiatives that won the Grand Prize, which we haven't covered in this issue, with an overview of the initiatives and their evaluation points. All of the initiatives are taking on the challenge of solving complex issues while leveraging the power of partnerships, and they offer many insights to business professionals. Stay tuned!
The best measures were announced! The 10th NTT Group Sustainability Conference
https://group.ntt/jp/magazine/blog/conferences_10th/
News Release
Awards Ceremony Held for the 10th NTT Group Sustainability Conference - Toward Innovating a Sustainable Future for People and Planet
https://group.ntt/jp/newsrelease/2023/06/12/230612a.html
For inquiries from the media regarding this matter, please contact
NTT Corporation
Public Relations Office
ntt-pr@ntt.com