There is only one your left to go before Docomo begins providing 5G services in the spring of 2020 as planned. Moreover, there is now less than one year to go before pre-services begin in autumn 2019 as planned, and moves towards commercialization are finally proceeding in earnest.
"No doubt a world will arrive where anything can be done by remote control." "The world I dreamed about as a child will finally be realized." Things that no one has ever seen before, a world that no one has ever imagined--great expectations are being held for the excitement that 5G will generate.
Going beyond mere communications, it is anticipated that 5G will become the social foundation of the future. How will new communications technology change our lifestyles in the future?
Remote surgical support from inside a Shinkansen train bullet train Advanced telemedicine realized through 5G: Mobile SCOT
One field in which high expectations are held for the diffusion, and especially the use, of 5G--which is characterized by "ultra-high speed", "ultra-low latency", and "multiple concurrent connections"-- is healthcare.
"Mobile SCOT" is an experiment attempting to construct a remote smart healthcare support system that enables patients to receive safe, high-quality healthcare anywhere and at any time through the application of 5G ultra-high speed/ultra-low latency telecommunications to the SCOT® (Smart Cyber Operating Theater®) smart treatment room developed by Tokyo Women's Medical University.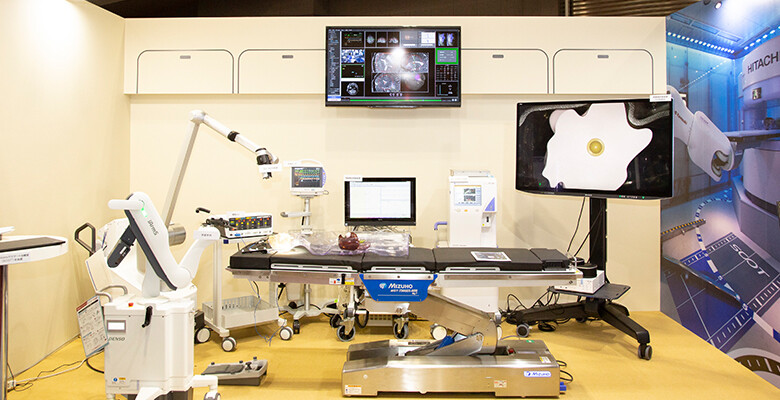 Treatment space recreating the "Mobile SCOT" smart treatment room
In the display booth, a demonstration was carried out showing how mobile treatment rooms (mobile versions of SCOT®, which realizes safe, high-quality medical care) and tablets viewed by skilled physicians travelling on Shinkansen bullet trains are connected by 5G through the networking and visualization of medical devices. The skilled physicians provide advice to surgeons in remote locations while looking at integrated information from the mobile treatment room on their tablets (mobile strategy desk).
Device information and high-resolution images--which are essential for telemedicine--can be transmitted to devices on Shinkansen bullet trains travelling at high speed in real time precisely because high-speed, high volume 5G technology is used.
If this idea can be made a reality, it will become possible for richly experienced highly skilled physicians to act as "control towers" in operating theaters, overseeing surgeries even while away on business trips or travelling on Shinkansen bullet trains. Furthermore, high expectation are also held for Mobile SCOT as a new technology that will be able to resolve problems related to healthcare provision in remote areas and disaster medicine, such as enabling the provision of high-quality diagnosis and treatment in emergencies even in locations where it is difficult to transport the patient to a hospital, and enabling high-quality healthcare in regional and other remote areas.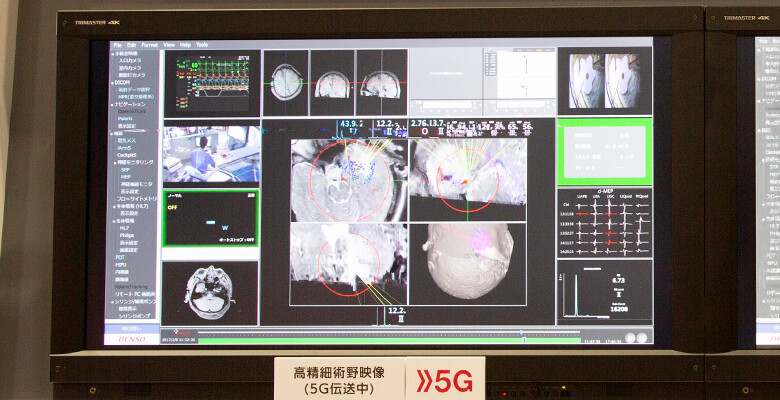 High-speed 5D data transmission has made 3D-MR images--which appear flat with 4G--appear three-dimensional.
Toyota's "T-HR3" humanoid robot achieves soft, supple movement through remote-control ultra-low latency using 5G
Humanoid robots are being developed with the aim of creating partners to provide safety support for human living in the home, medical institutions, and a wide range of other situations. Within the exhibition space lined with numerous booths enabling visitors to experience Docomo's cutting-edge technologies, the "T-H3R" booth drew particular attention.
T-H3R being operated in the exhibition hall using
a remote control system

The touch sensation of T-HR3's fingers is conveyed
to the operator controlling the robot from a distant location,
and so it was possible for it to navigate the maze blindfolded.
On the day of the exhibition, a demonstration was presented in which a robot at the exhibition venue (Tokyo Big Sight) was operated remotely with a control system located at Tokyo Solamachi via a wireless connection utilizing 5G low-latency (5G was used in certain sections of the experimental environment).
This demonstration was characterized by the power (torque) absorbed by the humanoid robot from its surroundings being conveyed to the remotely located operator, rather than simply having the operator control the robot's movements from a remote location.
In addition to actions that require the communication of torque, such as "Grab the blocks and pile them one on top of the other" and "Shake hands with a person", a demonstration was presented in which the robot was blindfolded, depriving it of visual information, and then the operator guided the robot's fingers holding a chess piece through a maze to the goal using only the sense of touch.
High expectations are held for the utilization of humanoid robots in various fields, ranging from familiar tasks such as housework and nursing care to construction work and extreme tasks such as disaster relief and space operations. A future in which these robots play an active role in people's lives as partners providing safety support is almost here.
Future security in which 5G plays an active role
Proactively pursuing collaborative projects with partner businesses in different industries in order to draw out the maximum potential of various technologies is another characteristic of Docomo's efforts aimed at achieving the commercialization of 5G. The "Advanced Security Service Utilizing 5G" that we are pursuing together with ALSOK and NEC is also a project through which we are endeavoring to pioneer use of 5G through collaborative efforts with our partner businesses. An example of technology that is currently undergoing R&D with the aim of early commercialization is a system for preventing crime by means of high-resolution cameras built into glasses worn by security guards patrolling the exhibition hall sending information via 5G to the control center, where potentially suspicious activities are detected using AI and the detected information is then shared with the security guards via 5G.
It is possible for 5G to transmit large volumes of data virtually in real time. Accordingly, this technology makes possible crime prevention measures that previously were impossible. Having security guards wear wearable cameras enables control room staff to give the guards on site information and instructions more quickly and precisely according to the guards' lines of sight.
In addition, we are also constructing systems that enables monitoring of entire city spaces, not simply conventional security-service areas, through the installation of high-resolution cameras in high locations, enabling a wide area to be monitored. High expectations are held for these systems as next-generation security services capable of detecting and preventing potential crimes in advance, taking the conventional security monitoring style of responding to incidents and preventing further damage one step further. Not only does high-volume, real-time transmitting 5G strengthen security, but it can also make possible the creation of new services for elderly people, people requiring nursing care, and overseas visitors to Japan.
Security guards wearing smart glasses

The perspective viewed by the security guards
through the smart glasses.
This technology enables suspicious persons to be
identified instantly from data recorded in the server
and then information sent to the security
guards' smart glasses.
AI agent providing necessary information and services with appropriate timing
In 2020--the year in which the provision of 5G services is scheduled to begin--a sports festival is to take place that will have the eyes of the world on it and draw visitors from around the globe to Japan.
"I'd like to purchase a reserved seat ticket on the Shinkansen bullet train from Tokyo to Shin-Osaka for tomorrow."
Images of a future society aimed towards realizing a "universal future society" that is kind and considerate to elderly and handicapped people, and that enables overseas visitors to enjoy their experiences in Japan were presented, including "ticket vending machine speech dialog services" that enable travelers to purchase train tickets using natural language (multilingual services planned) and "intercom speech dialog services" that respond to visitors at the door instead of the home's residents.
"Beer and edamame for starters, please!"
Services provided through the installation of dialog-type engines using AI technology into various devices are gaining attention. An example of these services is the "order terminal speech dialog service" that displays menu suggestions when spoken to, making ordering easy.
Ordering menu items in a restaurant

In addition to the monitor, there is a microphone
installed in the table, making it possible for the device
to pick up only the voice of seated customers as they
place their order, even if they are surrounded by noise
In addition, expectations are held for the helpful roles to be played by AI Agent and 5G in universal design city planning that the national government is undertaking with a view to 2020, including services connecting apps and data on the devices that people usually use in everyday life to various devices around the city, displaying navigation information; platforms that enable visualization of contents; and new connected car services linking smartphones and cars.
Making the future even more convenient and enjoyable with 5G
In addition, expectations are held for the helpful roles to be played by AI Agent and 5G in universal design city planning that the national government is undertaking with a view to 2020, including services connecting apps and data on the devices that people usually use in everyday life to various devices around the city, displaying navigation information; platforms that enable visualization of contents; and new connected car services linking smartphones and cars.
A future transformed by 5G
How far will healthcare advance through 5G?
How will security methods change through 5G?
What about robots? AI?
What kind of transformation will the world undergo in two years' time?
Already we can't contain our excitement just thinking about it!
A convenient, enjoyable future will be arriving soon!
※ SDGs: The "Sustainable Development Goals" identified by the United Nations. Comprising 17 goals and 169 targets, the SDGs are positioned as socially shared goals and have been set as themes that should be undertaken with the aim of achieving the goals by 2030.
Ministry of Foreign Affairs website