"Open House 2023" will be held at QUINTBRIDGE in Osaka on June 1 (Thu.) - 2 (Fri.), 2023. With the concept of "A future where anyone can shine anywhere, colored by diverse knowledge and technology," we will introduce the latest research results through lectures and exhibits. Ahead of the event, we will focus on five of the latest technologies from a total of 16 exhibits.
< Go to Part 1 of 2 / Part 2 of 2 >
1)Speech recognition that takes a step forward in understanding the concept of sound rather than sound itself. Concept Beam, a new signal technology for separating by meaning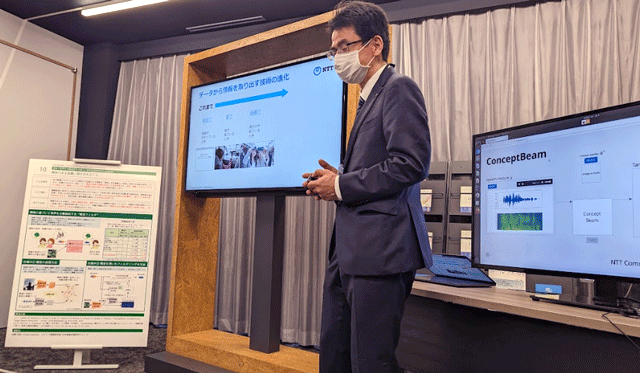 Press Release (in Japanese)
https://group.ntt/jp/newsrelease/2023/05/30/230530d.html
In today's age of vast amounts of information, there is an increasing need to extract and utilize necessary information efficiently and quickly. Until now, internet search engines have extracted the necessary information by inputting keywords, using voice recognition for navigation, and performing image searches for images. However, when there are similar items, the result is something completely different from what was originally intended to be extracted.
However, by using Concept Beam, the conceptual filter introduced here, it is possible to determine whether or not the content matches the meaning of the data itself, and then produce results.
For example, let's say out of four people, two are talking about baseball and the other two are talking about animals. By using "Concept Beam" to filter out the meaning of "baseball" in either audio, images, or text, it becomes possible to extract only the information from the two people talking about baseball.
This technology can also be used as a pre-processor for various existing speech recognition technologies. The accuracy of existing speech searches can be further improved by using speech that has been converted to clearer information through this technology.
2)No large amount of data is required, unlike LLM. An individualized and optimal question recommendation method based on Monotonic VAE.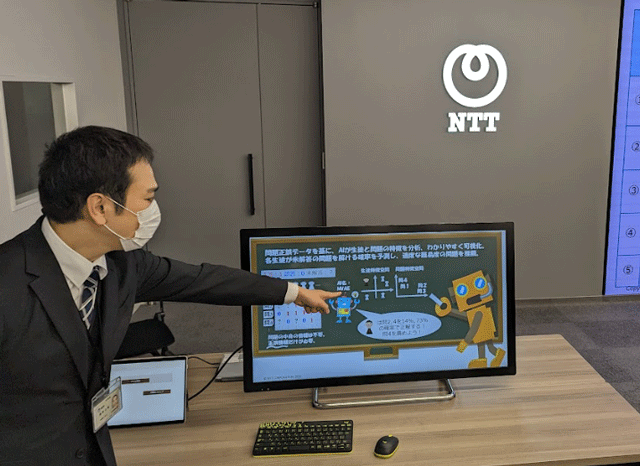 Under the GIGA School Concept, the digitization of schools has been promoted, with one terminal per student distributed to elementary and junior high schools where compulsory education is provided. Incidentally, the Ministry of Education, Culture, Sports, Science and Technology (MEXT) has a set a goal of using Artificial Intelligence (AI) technology to reduce the burden of education and realize tailor-made education based on each student's level of understanding.
The Monotonic VAE technology introduced here makes it possible to provide individualized learning tailored to each student from among numerous teaching materials and problems. Although Variational AutoEncoder (VAE) has been an existing technology for some time, conventional VAE could extract the most appropriate information from a vast amount of textbooks and problem sets; it could not, however, come up with the best individualized learning from limited information. LLM, which has recently become a hot topic in the media, is an approach that requires a large amount of data, and collecting that data itself is a difficult task in the school setting. Therefore, an approach such as Monotonic VAE, which requires only a small amount of data, is easier to use. Using Monotonic VAE, developed by our research institute, it is possible to predict the probability of correct answers by having students answer about 100 questions.
In the near future, individualized and optimal learning will be realized for each student, and each student will be able to draw out their own abilities at their own pace.
3)Do you actually care about the conversation of the person next to you? Mind reading based on pupil and eye movements that reads the movements of the mind from minute eye movements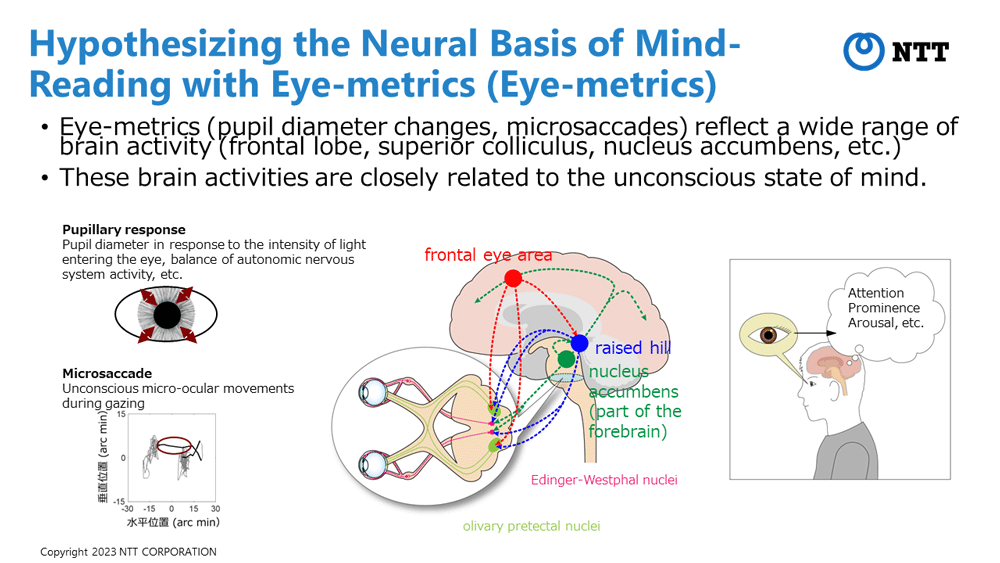 Press Release (in Japanese)
https://group.ntt/jp/newsrelease/2023/05/30/230530c.html
Eye metrics is a technology that can decipher the depths of the human mind from the movement of the eyes. The focus of this particular technology is on the dilation and constriction of the pupils.
For example, suppose there is a picture of a live music club in front of you. To the right is a well-lit stage and to the left is a darkened auditorium. Eventually, a singer appears on the stage on the right side of the stage, and you hear the song. First, move your eyes freely to see what is going on. Then, you fix your gaze in the center without moving.
When we compared the data on the line of sight and pupils for these two patterns, we found that even when the line of sight was fixed at the center, when the singer appeared on stage, the pupils constricted, causing the mind to move in a "brighter" direction. In other words, even if the eyes are not moving, we know that a person's mind is moving in the direction of the singer by the degree of pupil constriction.
While eye tracking technology is already available and can now read the movement of the mind and emotions, by further analyzing eye metrics it becomes possible to predict not only where a person is paying attention but also their cognitive state, such as whether they like or dislike something. This means that even when someone is looking at a specific person, it can be understood that they are actually more interested in and want to hear the conversation happening next to them.
Furthermore, if this technology is extended to sound, it is possible for individuals wearing hearing aids to automatically amplify the sound in the direction they are paying attention to, unconsciously. This technology is expected to be used in a variety of fields in the future.
4)Earth-friendly display with the power of magnets. Magneshape: Magnetically actuated pin display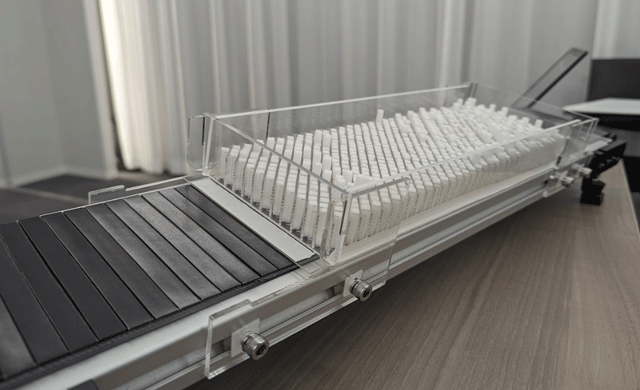 Press Release (in Japanese)
https://group.ntt/jp/newsrelease/2023/05/30/230530b.html
Our daily lives are supported by electronic devices. However, carbon dioxide emissions generated by the use of electronic devices have become a global issue.
Magneshape, the magnetic actuated pin display introduced here, is characterized by its use of readily available and affordable materials such as magnet sheets, a housing for holding the pins, and magnetic pins. Commercially available small pot magnets are limited in size, shape, and availability, and cost 1,000 yen each. On the other hand, the magnetic pins used in this project are inexpensive, costing only 1 yen, making practical application feasible.
In a conventional pin display, each pin must be electrically controlled, which requires the preparation of hundreds of motors, which is a huge cost, along with the electricity required for electrical control. Magnetic-actuated pin displays, however, use technology that writes magnetic field patterns. It is now possible to realize a pin-based display without the use of electricity.
With this technology, it is possible to create heart-shaped shapes and even make text appear, making it possible, for example, to develop advertisements with bold expressions using pin displays on the street. This technology is not only Earth-friendly, but is also characterized by its ability to enable new forms of expression.
5)Can you touch softly even when you are apart? Robot manipulation that allows you to feel compassion, high tracking and low rigidity control in tele-operated robots.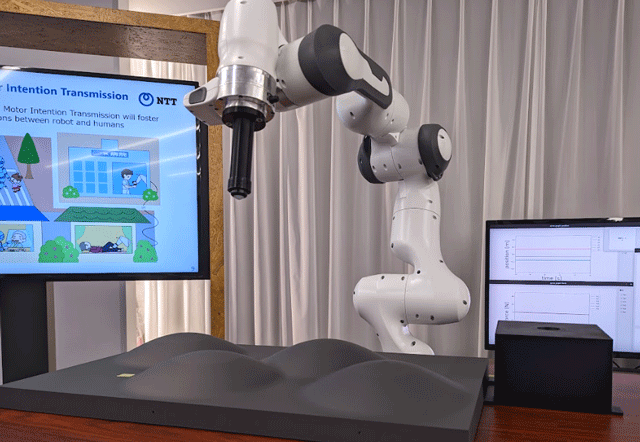 Industrial robots have been used in factories to assemble automobiles and equipment, and robots have replaced people for more dangerous jobs. Robot teleoperation technology is also useful, for example, when operating a robot remotely to perform surgery in rural areas where there are no doctors, or when performing work in hazardous environments where people are not allowed to enter.
In conventional technologies, robots moved in a way that mimicked human movements, and when the movements were precisely matched there were challenges such as excessive agility that could lead to damage to objects or making the movements slower, resulting in operational difficulties. With the newly proposed method, however, the intention of how humans would move objects based on the forces applied when humans move objects is interpreted and predicted in the three directions of up-down, left-right, and forward-backward. This data is then sent to the robot for movement.
Constant communication is necessary for a robot that continuously traces the movements of a person. However, the method of predicting a person's intentions and sending the predicted data to the robot does not require communication, and thus enables smooth, soft, and more human-like movements that were not possible in the past.
With this technology, telemedicine and work in hazardous areas that are inaccessible to humans can be performed more smoothly, making it a gentle robot that can support our future safety and security.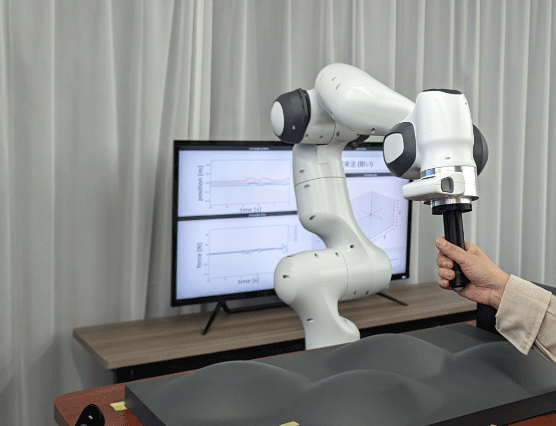 Open House 2023 is a collection of various initiatives based on the grand theme of "Deciphering Humans, Society and the Earth," and we invite you to experience the demonstrations and experience the future that awaits us.
Location of "Open House 2023": QUINTBRIDGE
QUINTBRIDGE, 4-15-82 Higashinodacho, Miyakojima-ku, Osaka-shi, Osaka 534-0024, Japan
JR Osaka Loop Line "Kyobashi Station" North Exit: 10 minutes on foot
10 minutes walk from West Exit of Kyobashi Station on Keihan Main Line
Subway Nagahori Tsurumi-ryokuchi Line "Kyobashi Station" : 5 minutes on foot
https://www.quintbridge.jp/about/#overview
Pre-registration is required to enter the on-site venue.
Please register from "Pre-registration" here.
NTT Communication Science Laboratories Open House 2023
https://www.kecl.ntt.co.jp/openhouse/2023/index_en.html

The event will also be held online for those who cannot visit the venue.
Update 7/7/2023
Full of hints to decipher people, society, and the Earth!
NTT Communication Science Laboratories "Open House 2023" Digest Report Edition.