Towards realization of a stress-free/universal society
Japan will be welcoming the Rugby World Cup in 2019, and then the Olympics and Paralympics in 2020. City environments are changing, while at the same time various programs are being implemented nationwide.
The number of overseas visitors to Japan has been increasing, setting new records for the past five consecutive years. While attention focuses on the ideal form of barrier-free facilities which enable smooth movement of persons with disabilities, elderly persons, overseas visitors, and others with movement constraints when using multiple public transport systems, in collaboration with local government authorities and our partners, NTT has been conducting surveys concerning barrier-free facilities around sporting venues in preparation for 2019 and 2020 so that all people visiting Japan and Tokyo are able to overcome differences in language and culture to enjoy the sporting events.
"Let's walk together"--towards a Japan where it is easy for everyone to move around
To ensure that everyone can travel smoothly to Olympic venues, universal surveys were conducted in the Tokyo Metropolitan area (Koto City) and Oita (Oita City) regarding the status of barrier-free facilities around sporting venues (stairs, width of walkways, toilets, elevators, etc.) and barrier-free routes between stations and venues.
"Barrier-free" means "without impediments".
"Even streets that you would ordinarily walk along without a thought can be difficult to navigate, can't they?"
In conducting the surveys, barrier-free information was recorded on maps from the perspective of people using wheelchairs and people with visual impairments, and surveyors discovered many points that they would not ordinarily notice walking down a street without a thought unless they were accompanied by someone with mobility issues. Barrier-free maps show information that enables elderly people, people with disabilities, and people with small children to go out and about with peace of mind, such as differences in walkway levels and slopes, and elevators and multipurpose toilets in facilities. NTT has therefore been compiling barrier-free maps enabling all people to go out and about with peace of mind since 2016.
On the day of each survey, surveyors walked to venues and travelled on trains accompanied by people with mobility issues. After arriving at the station, surveyors suggested using the elevator out of concern that using the stairs would be stressful for visually impaired participants, but this suggestion was met with, "Let's walk together". Thus, counter to the surveyors' thinking, all participants headed for the stairs.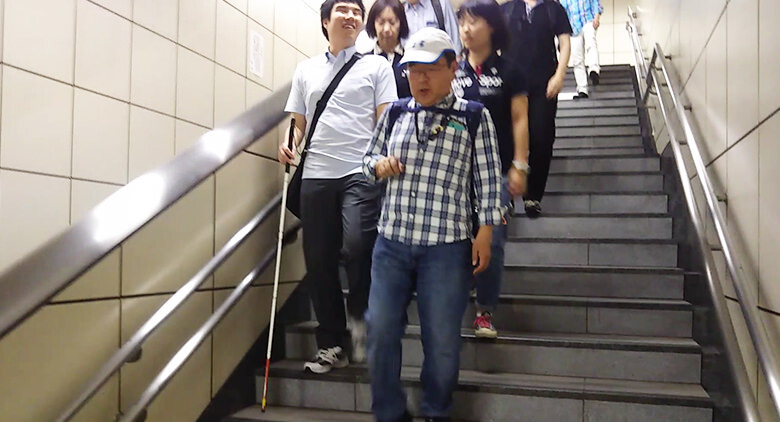 Surveys of barrier-free facilities around the city were carried out with the assistance of volunteers.
Barrier-free maps that can be viewed on the Internet were created centering on areas around Tokyo 2020 sporting venues.
Smiling, visual impaired participants explained that, "We don't usually use elevators. It takes time to search for the location of the button to press to go 'up' or 'down', and depending on where the elevator is located, the entrance and exit may be different, which confuses our orientation. We use the stairs for health reasons." (Laughs)
Although elevators are very convenient for moving up or down to different levels, listening to the comments of people with mobility issues gave surveyors greater awareness of the importance of mobility and consideration for others who are different from yourself.
Surveyors walked the routes themselves and
recorded what they saw and
experienced, leading to the creation of a universal map!

The situation along the street was also photographed
and recorded on the map,
including details such as whether there were
any breaks in the braille blocks,
or paths for vehicles (road) and pedestrians (footpath) were separate.
In conducting the survey, surveyors walked the actual routes to the sporting venue themselves, checking such factors as whether there were any danger spots for people in wheelchairs or with prams or strollers along the route to the sporting venue, or how steep slopes were, and each of these points was recorded on the map. The survey found several barriers, such as slopes and stairs, but there were also passersby who kindly asked if they could be of assistance or made way for participants on the street. After recording each piece of information by hand, all the recorded information was compiled into a map. Finished! On completing their task, participants were able to feel a sense of achievement.
Believe in possibilities--accepting diversity and each person's way of living
Various experiential events conveying the attraction of sports events, walking events, and many other events are being held nationwide as part of various initiatives aimed at linking considerate barrier-free facilities enabling all people to live with peace of mind, and we at NTT are also taking part in these events.
At the "NO LIMITS CHALLENGE" Tokyo Metropolitan Paralympic Games Competition Experience Program held in May, the NTT Booth introduced various initiatives related to universal technologies that are easy for anyone to use and enjoy, such as Docomo's Mierudenwa ("Visual Phone"), which automatically converts conversation content into text, as well as the Minna-de Tsukuru Universal Map ("Universal Map Created by Everyone Together") and the "3D Photo Experience", which enables visually impaired people to enjoy photographs they have taken together with sighted people.
"Minna-de Tsukuru Universal Map
("Universal Map Created by Everyone Together")"
We were able to hear various valuable suggestions
from people with mobility issues for realizing
a barrier-free society.

"3D Photo Experience"
Photographs are taken and printed on special paper,
then passed through a special 3D copy machine producing
unevenness so that the image can be felt with the fingertips.
"Japan Walk"
Many people in wheelchairs or who use a seeing-eye dog
were able to have fun with friends and
family members participating in this walking event.

"Minna-de Tsukuru Universal Map
("Universal Map Created by Everyone Together")"
This barrier-free map provides navigation in both Japanese
and English regarding the location of universal toilets,
roads with steep slopes, and other information.
Of especial interest is Docomo's Mierudenwa ("Visual Phone"), which is an app that converts the sounds of the person the user is speaking to into text using the same operations as with an ordinary telephone. The app supports telephone communication by enabling users to both listen to and read what the other person is saying by putting the telephone on speaker mode during the conversation.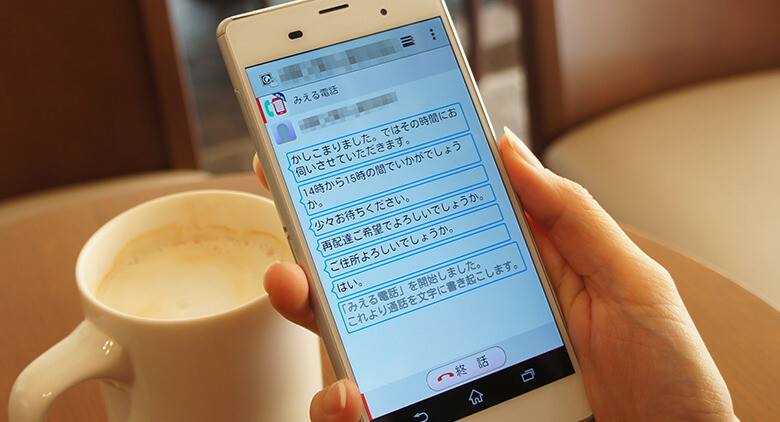 Docomo's Mierudenwa alleviates the anxiety caused by being unable to hear clearly
A person who stopped by the NTT booth explained that they experience great difficulty communicating via "telephone", saying: "There are times when I am unable to hear as clearly as I would like, which is disappointing, but with this app I am sure my everyday living would improve."
Through the Mierudenwa ("Visual Phone"), which enables smooth communication by converting audio into text, NTT is continuing to support people taking on new challenges where they proactively speak up, as well as the creation of a society where people's lives become even more abundant.
Importance of talking and speaking to one another
Some 128 years ago, on February 16, 1890, telephone services began in Tokyo and Yokohama. Since then, telephones have evolved from dial telephones to push-button telephones, mobile shoulder telephones, hand-held mobile telephones, and today's smartphones, but in all of these eras "conversation" has played an enormous role. Enhancing mutual understanding between speakers and listeners also provides opportunities for enhancing interpersonal relations.
There are only two more years until 2020. Although this is an age in which the Internet and social networks are regarded as efficient communication channels, the importance of people talking and speaking to each other remains unchanged. The Tokyo 2020 Olympic and Paralympic Games provide an opportunity for "realizing a barrier-free society" that is even more rich and diverse, and NTT will continue to provide support aimed at assisting in urban planning that takes the needs of all people into consideration.