The Tsukuba Forum 2023 was held at the NTT Tsukuba Research and Development Center on May 17 and 18, 2023.
The theme of this year's forum was "Access Networks that drive innovation -Staying connected from now onwards."
The following is a report on the keynote speech given by Dr. Katsuhiko Kawazoe, Senior Executive Vice President and Representative Member of the Board of NTT, at the Tsukuba International Congress Center on the 17th, as well as details of the six technologies that are currently the focus of attention, as discussed in the Highlights of the Forum.
The Future of Access Networks Supporting Social Infrastructure.
Detailed report on Tsukuba Forum 2023".
Keynote Speech: World View of IOWN4.0 and Announcement of New Photonics-Electronics Device Company, NTT Innovative Devices Corporation.
The Future Envisioned by NTT Group with IOWN and New Value Creation.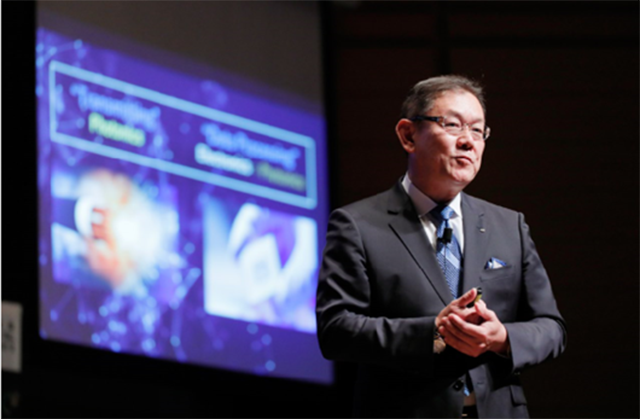 The theme of Senior Executive Vice President Kawazoe's keynote speech at the Tsukuba International Congress Center on May 17 was "NTT as a Creator of New Value and Accelerator of a Global Sustainable Society".
On May 12, NTT announced its new medium-term management strategy, "New value creation & Sustainability 2027 powered by IOWN*."
The basic idea of the strategy is that NTT will continue to take on challenges for new value creation and the sustainability of the Earth.
This is not just about the NTT Group, but also expresses the company's determination to develop its business with the Earth in mind.
The lecture will be available on demand until June 16, 2023 at 18:00. Registration is required to view the lecture.
 Please click here to register and watch the lecture.
 https://www.tsukuba-forum.jp/e/index.html
Introducing Technologies for the 6G/IOWN Era under the Theme of "Stay Connected"
Featured Technology 1: "Access Network for the 6G/IOWN Era"
Demonstration of access network for the 6G/IOWN era
The IOWN initiative is characterized by low power consumption, high capacity, high quality, and low latency, and its realization is an Earth-conscious initiative, The success of the invention of the optical transistor in 2019 made it possible to use light for data processing as well, leading to the announcement of the IOWN initiative.
Initially, the idea was to complete everything before unveiling it, but the policy was changed to one of producing results as needed, starting with mature technologies, and the APN IOWN 1.0 service was released on March 16 this year. In order to let the participants at the venue experience the service, a classical concert was held between Tokyo and Osaka using APN IOWN. This was a demonstration experiment to prove that the remote performance sounded completely comparable to a regular classical concert.
The new announcement at the keynote is a technology that goes beyond APN IOWN1.0, which is available only within the same prefecture; APN Step 2 will expand the service area to inter-prefectural areas, increase transmission capacity by more than 6 times, and increase power efficiency by 13 times. The company plans to make an announcement at the Osaka-Kansai Expo in 2025. In addition, Dr. Kawazoe has announced plans to further upgrade APN Step 3 and beyond, increasing transmission capacity by 125 times and power efficiency by 100 times.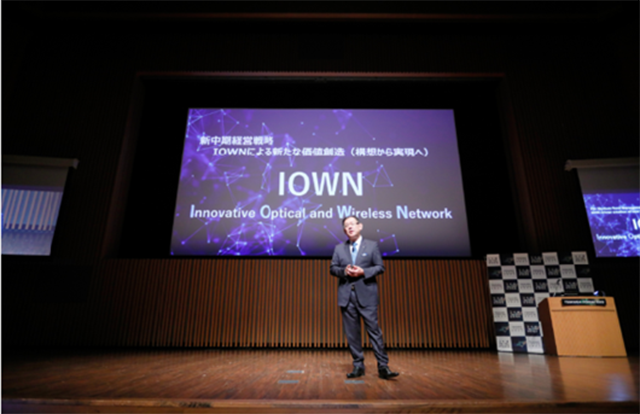 At the core of this evolution is the early commercialization of Photonics-Electronics Convergence Devices that achieve low power consumption. To make this possible, the company announced the establishment in June of a new company called NTT Innovative Devices Corporation, which will plan, design, develop, manufacture, and sell Photonics-Electronics Convergence Devices.
IOWN2.0 will realize optical connections between LSI boards in computers, IOWN3.0 will realize optical connections between chips. Meanwhile, IOWN4.0 will further advance optical connections between dies within a chip.
Since the IOWN initiative cannot be realized by NTT alone, the IOWN Global Forum was established to help realize the IOWN initiative.
The Forum plans to collaborate with various companies around the world to build an ecosystem. The Forum also announced that Japan will make a significant contribution to the world by expanding this technology to the world as the next generation of globally sustainable technology.
The kyenote will be available on demand until June 16, 2023 at 18:00. Registration is required to watch the lecture.
 Please click here to register and watch the keynote:
 https://www.tsukuba-forum.jp/e/index.html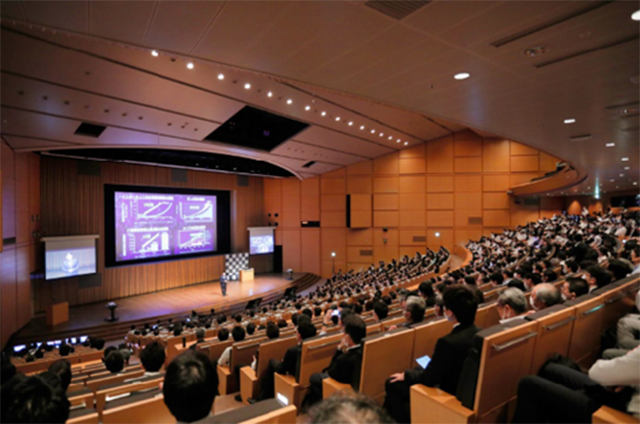 Introducing Technologies for the 6G/IOWN Era under the Theme of "Stay Connected"
Featured Technology 1: "Access Network for the 6G/IOWN Era"
Demonstration of access network for the 6G/IOWN era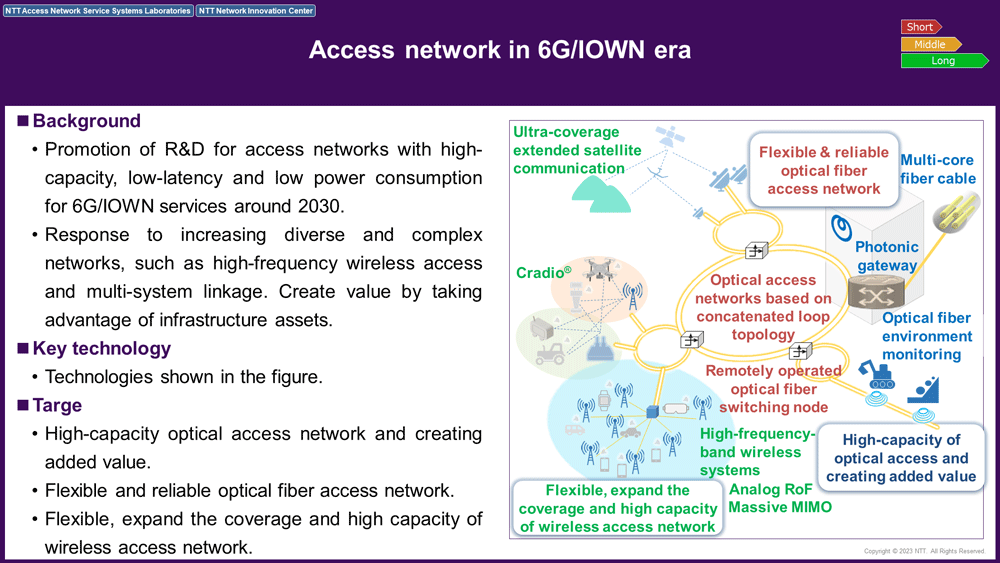 The exhibition attracted an even greater number of visitors than last year, as it provided an opportunity to systematically grasp NTT Group's challenges in realizing a future of continuous connectivity. The exhibit that attracted the most attention from visitors was "Access Network for the 6G/IOWN Era," in which NTT Group is researching and developing "IOWN," an All-Photonics Network (APN) and adopting Photonics-Electronics convergence technology for the devices, which will enable high capacity, low latency and low consumption. The concept is a network and information processing infrastructure, including terminals, that achieves high capacity, low latency, and low power consumption. In addition to introducing an overview of the technology on the panel, APN IOWN1.0, which was launched on March 16 this year, was exhibited along with APN-compatible termination devices developed by Fujitsu, NEC, Ciena, and Mitsubishi Electric.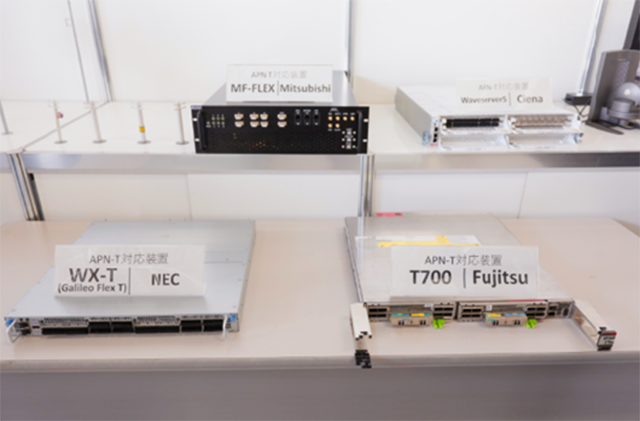 As a use case for APN IOWN, a demonstration of remote operation at a construction site showed how low latency can be achieved in remote operation of construction equipment using APN IOWN. Comparing the actual movement of the robot arm with the movement of the robot arm on the screen, the latency was almost zero, giving a sense of the future with the widespread use of IOWN.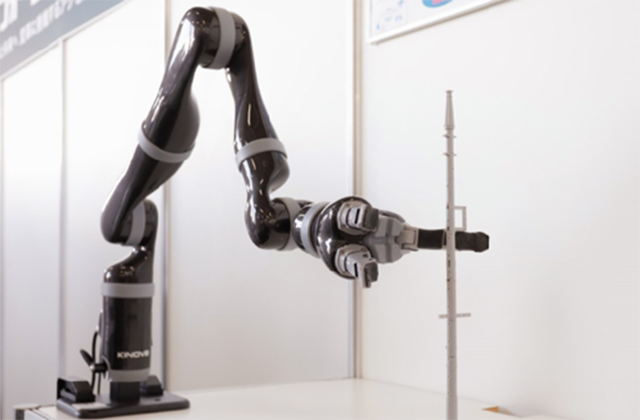 Noteworthy Technology 2: "Technology for estimating causes and understanding service impact in large-scale failures (Konan × NOIM)"
Konan × NOIM quickly resolves large-scale failures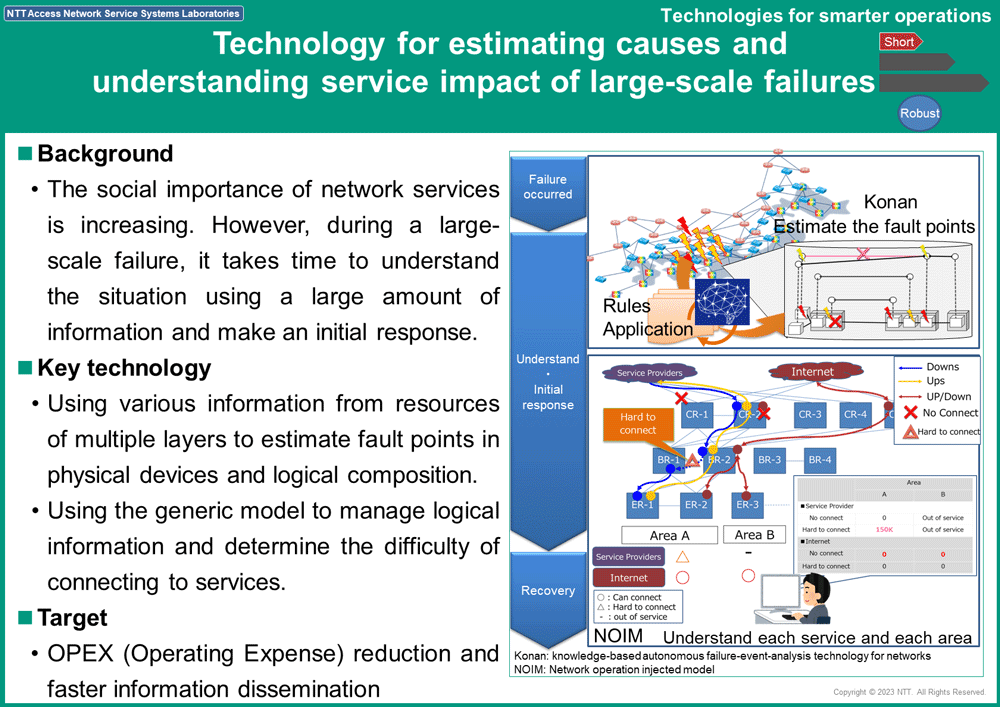 Telecommunication services are becoming a part of society's infrastructure. This technology enables early restoration in the event of a major breakdown of such social infrastructure, by enabling Konan to estimate the cause of a major breakdown and NOIM to assess the situation by service and by area. By using this technology, service providers will be able to greatly reduce the impact of large-scale failures on users and promptly report the situation to the Japanese Ministry of Internal Affairs and Communications, and other authorities.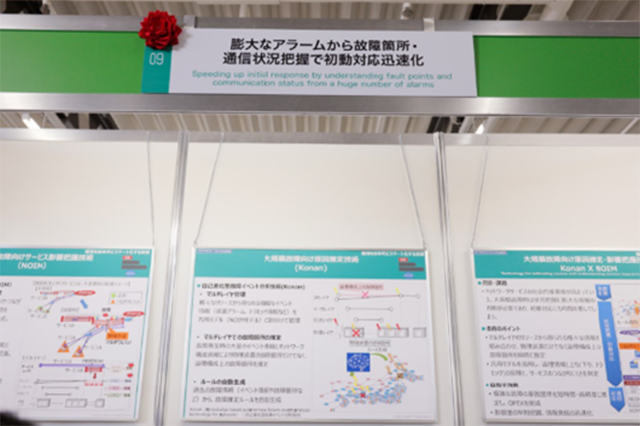 Noteworthy Technology 3: "Blockchain-based wireless access network sharing"
Responds to increased wireless traffic without installing new wireless facilities.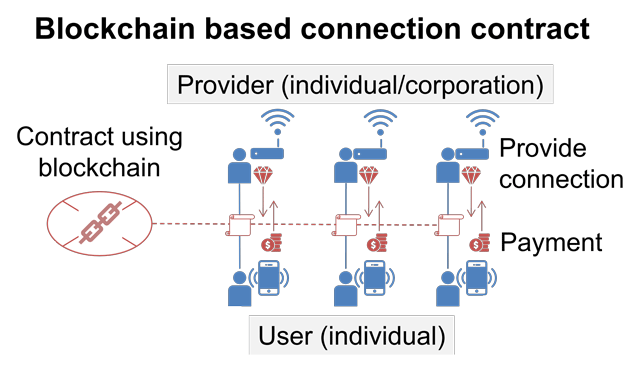 Press Release
https://group.ntt/en/newsrelease/2023/04/26/230426a.html
Technology for high-quality, secure sharing of wireless access points owned by individuals and local 5G, along with other wireless facilities owned by organizations among individuals and businesses. The key to this technology is blockchain. Secure sharing is ensured through blockchain-based connection. What is even more unique is that the information on the blockchain can be used to optimize terminal accommodation in an autonomous and decentralized manner, in order to enable high quality communication. This technology will not only help to cope with increased wireless access traffic, but will also contribute to reducing wireless facility costs and energy conservation.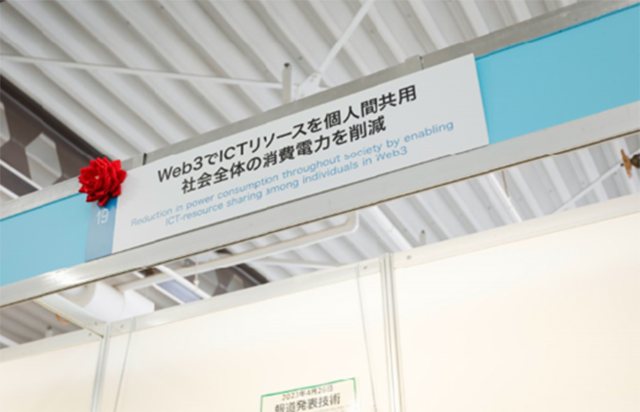 Noteworthy Technology 4 "Automatic determination of infrastructure deterioration using image recognition"
Inspection of Concrete Structures Using Commercially Available Digital Cameras.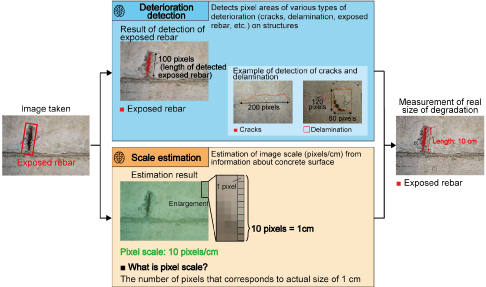 Press Release
https://group.ntt/en/newsrelease/2023/04/27/230427a.html
Currently, inspections of concrete structures such as tunnels, bridges, and dams are often conducted by humans. This technology uses a commercially available digital camera to automatically measure the size of deterioration from the images it captures. Even if the surface information is lost due to contamination on the concrete surface, AI is used to extract areas with little contamination and estimate the image scale with high accuracy. Although the accuracy is somewhat less than that of human inspections, the technology is already at the stage where it can be put to practical use.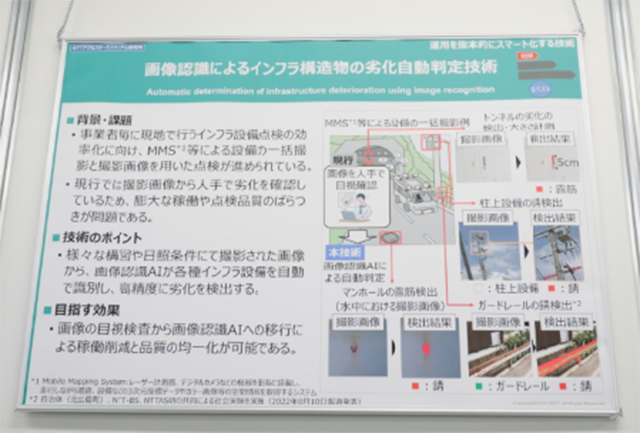 Noteworthy Technology 5: "Non-contact inspection technology for large structures"
Using a drone as a transmitter/receiver for weak radio signals, it is possible to inspect offshore wind turbines while they are in operation.

Press Release (in Japanese)
https://group.ntt/jp/newsrelease/2023/05/15/230515a.html
Offshore wind power generation is expected to increase in the future. This technology enables safe, non-contact inspection of damaged areas without stopping operation. Two drones are used as a transmitter and receiver of weak wireless signals, transmitting and receiving weak wireless signals. By analyzing changes in the received signals, the presence or absence of damage to offshore wind turbines can be detected. In addition to the advantage of being able to use weak wireless technology without obtaining a radio license, the non-contact system reduces maintenance and operation costs and contributes to carbon neutrality.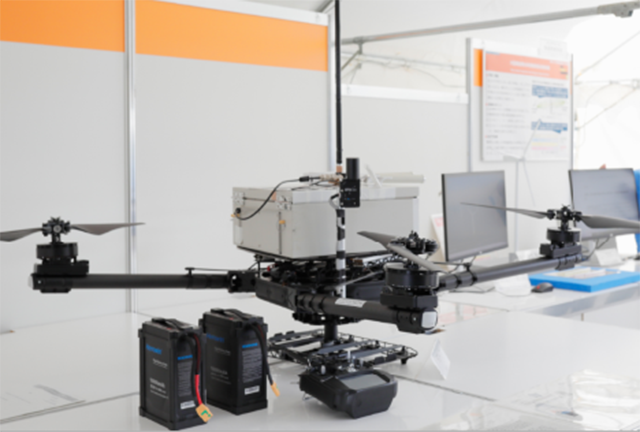 Noteworthy Technology 6: "High-speed network and application closed loop control technology"
Low latency remote robot control using edge applications.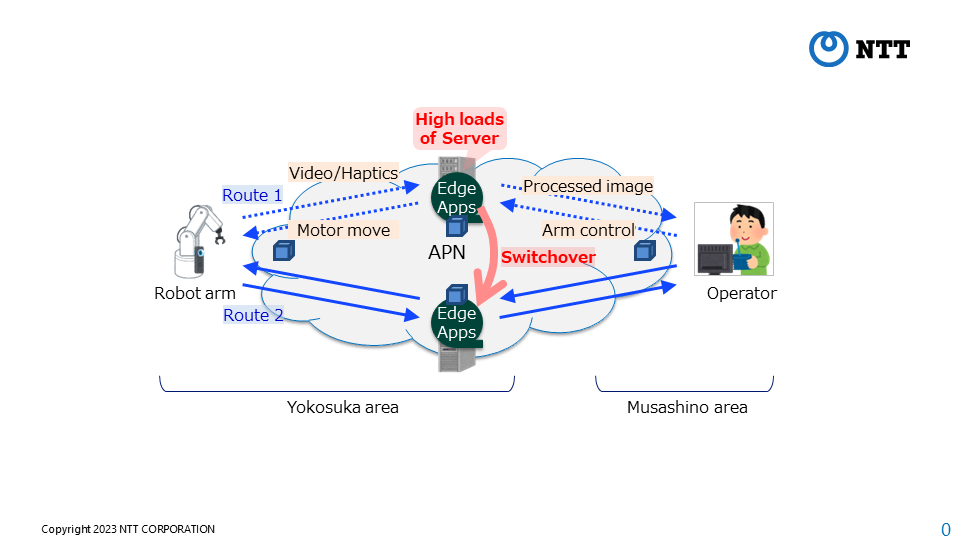 Press Release
https://group.ntt/en/newsrelease/2023/05/16/230516a.html
Visual information is essential for intuitive remote processing. For services that process and transmit visual information at the edge, it was necessary to ensure round-trip processing latency between the network and the application. This technology monitors the status of the network and servers in real time and switches routes in response to quality degradation or other conditions, thereby maintaining low latency at all times. In this exhibition, a demonstration of remote robot operation using Mitsubishi Electric's remote control system "VISUAL HAPTICS" was conducted. The demonstration proved that stable low-latency services were possible.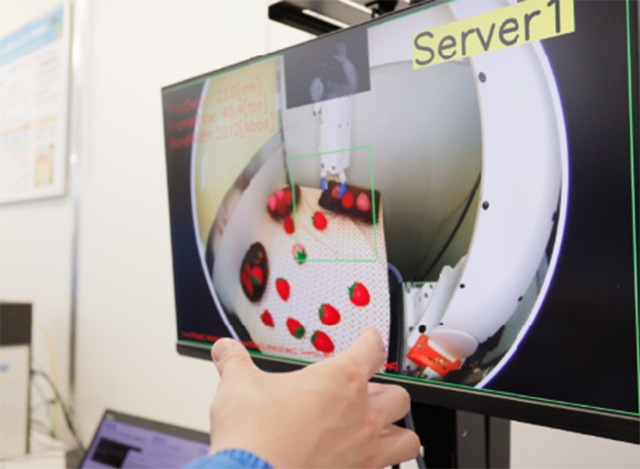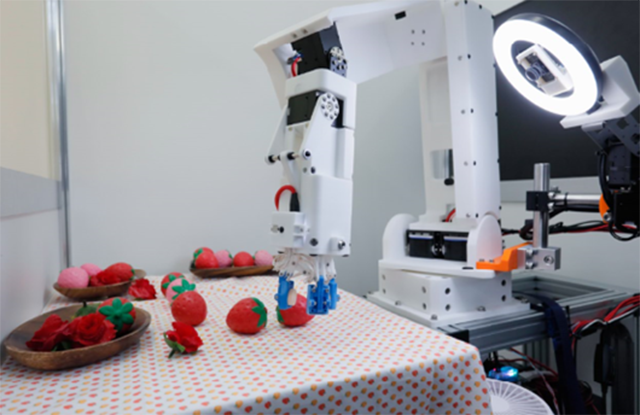 We have only introduced six new technologies here, including 6G/IOWN era access networks. In fact, the number of technologies on display at the exhibition was several times greater than this and we were happy to be able to explain the results of our work to the people stopping at each booth.
NTT Group is developing technologies that contribute not only to Japan, but also to society and the Earth. We hope that you will continue to look forward to the technologies we are developing.
The lecture will be available on demand until June 16, 2023 at 18:00. Registration is required to watch the lecture.
 Please click here to register and watch the lecture.
 https://www.tsukuba-forum.jp/e/index.html