Nippon Telegraph and Telephone Corporation (Head office: Chiyoda-ku, Tokyo; President and CEO: Akira Shimada; hereinafter referred to as "NTT") and Medicaroid Corporation (Head office: Kobe City, Hyogo Prefecture, President and CEO: Kaoru Asano; hereinafter referred to as "Medicaroid") have launched a joint demonstration project aimed at integrating physically separated environments as if they were one environment, enabling more realistic transmission of operating room conditions and smooth communication by connecting a domestically manufactured surgical support robot, the hinotori™ Surgical Robot System * 1, with the IOWN All-Photonics Network (APN below) * 2 in a research effort to realize remote surgery that is expected to become common in the future.
We have constructed an APN demonstration environment (over 100 km) in the NTT Musashino R & D Center, which features large capacity, low latency and almost 0 delay fluctuation. Under this environment, we connected Medicaroid's hinotori™ Surgical Robot System to perform robot control with almost zero delay fluctuation on the APN, share the operating environment with ultra-low delay by non-compression and high-security video transmission by cryptographic technology, and use voice technology that NTT has been working on for many years to demonstrate technologies such as machine sound removal that enables clear conversation even in operating rooms where various sounds are flying.
The results of this research will be exhibited at the NTT R & D Forum — Road to IOWN 2022 — (* 3) to be held from November 16 to 18th, 2022.
1.Background
Telemedicine surgery using surgical support robots is expected to contribute not only to solving social issues such as a declining population, a decreasing number of surgeons, and uniform medical care, but also to improving the level of medical care through community medical support and education and training of young surgeons. On the other hand, there are the following issues to be addressed in order to achieve this goal.
Remote operation of surgical support robots is greatly affected by delays and fluctuation in the network, allowing surgeons to perform remote surgery without stress and in a way that is not different from normal robotic surgery.
Communication during surgery is important in a remote environment, and it is stressful for surgeons and medical professionals to wear headphones or other devices for long periods of time, so information such as images and sounds of the entire spatial environment can be transmitted in high quality and real time without the need to wear the devices.
In remote surgery, advanced security measures will be taken to safely and accurately transmit not only information related to robots but also information related to individuals such as vital data, which will not be deciphered even by quantum computers.
2.Content of the joint demonstration
In this research, we will continue to demonstrate the following by applying NTT's technology, mainly APN.
Demonstration of remote operation with high capacity of more than 100 Gbps per wavelength between sites, low latency approaching the physical limit, and almost 0 delay fluctuation with no time variation of network delay.
Demonstration of sharing the operating environment as if it were operated in the same environment by noise canceling that removes only sounds that are an impediment to communication as well as long-distance and ultra-low delay real-time communication by using 8K ultra-low delay video transmission technology (* 4) to transmit information other than the surgical support robot necessary for sharing the operating environment directly.
Demonstration of ensuring security in the age of quantum computers by encrypting data sent and received by remote surgery with an encryption key exchanged with anti-quantum computer encryption technology using encryption key exchange technology and secure optical transport network technology (* 5), which are difficult to attack even on quantum computers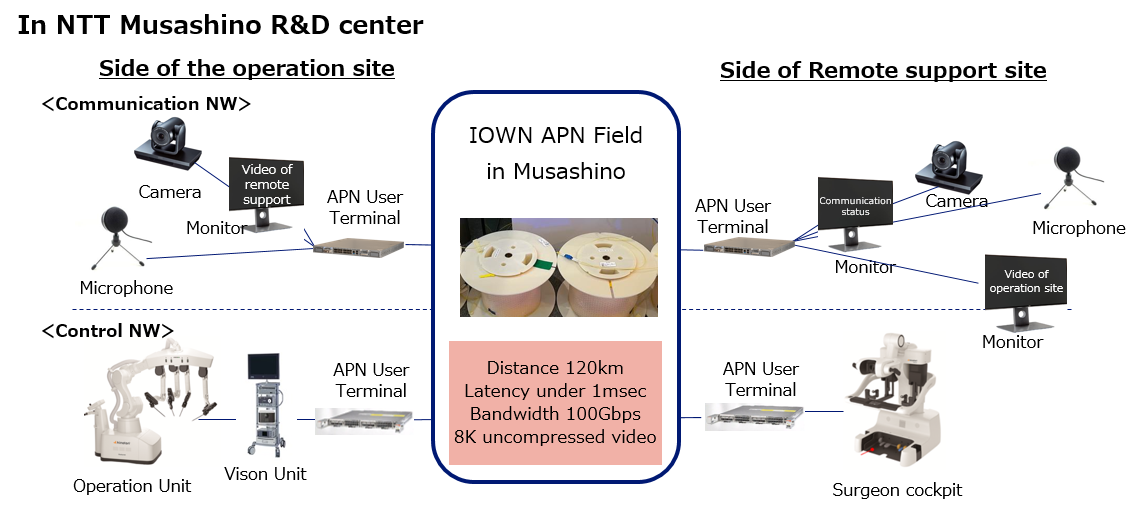 Figure 1: Structure Diagram
3.Future developments
In the future, we will jointly conduct field demonstrations of telemedicine support using this research, technology and contribute to improving the quality of medical care and ensuring accessibility to high-quality medical care through the further expansion of telemedicine. At the same time, we will use IOWN APN technology, which is the foundation of this research, to solve problems in various industrial fields and to solve social issues using real-time control with low delay and no delay fluctuations at a distance.
Glossary
*1hinotori™ Surgical Robotic System
This Medicaroid surgical support robot received manufacturing and marketing approval in August 2020 as a domestically manufactured endoscope surgical support robot (approval number: 30200 BZX00256000). In December 2020, the first surgery was performed in the urology area. In October 2022, the drug was approved for use in gastroenterological surgery and gynecology. We are now increasing the number of use cases throughout Japan.
*2IOWN All-Photonics Network
IOWN (Innovative Optical and Wireless Network) consists of three main components: the "APN (All-Photonics Network)" enables the photonics of not only networks but also terminal processing, "Digital Twin Computing" enables sophisticated and real-time interaction between objects and people in cyberspace, and "Cognitive Foundation" efficiently deploys various ICT resources including these.
APN achieves ultra-low power consumption and ultra-high speed processing, by introducing new optical technologies from the network to the terminals and chips. By allocating different wavelengths to different functions in a single optical fiber, it becomes possible to provide multiple functions that support social infrastructure without mutual interference, including information communication functions such as internet and sensing functions.
*3NTT R & D Forum — Road to IOWN 2022
URL: https://www.rd.ntt/e/forum/
*4NTT's ultra-low latency video-transmission technology announced in February 2022.
"SMPTE ST 2110 develops world's first ultra-low latency video transmission technology for uncompressed 8 K 120 p"
https://group.ntt/en/newsrelease/2022/02/22/220222a.html
*5NTT's secure optical transport network technology announced in November 2021.
"Development of optical transport network technology applying next-generation secure encryption technology"
https://group.ntt/jp/newsrelease/2021/11/05/211105b.html