NTT ranked at 47th in "BrandZ Top100 Most Valuable Global Brands 2016" on June 2016 for the first time.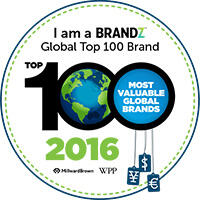 This ranking is Millward Brown's brand equity database, who is the one of the largest leading company with over 40 years of advertising, media, brand equity research, and consulting experience. Millward Brown compiles the ranking incorporating the data from over 650,000 consumers and professionals across 31 countries, comparing over 23,000 brands.
NTT will continue to address expanding global awareness in global market.
[Reference]
2016 BrandZ Top 100 Global Brands