"We're ready!" It is 10:00 in the morning, in the gymnasium of Teikyo Asaka High School in Koriyama City, Fukushima Prefecture. Despite today being Sunday, some 86 people have gathered here--children ranging from elementary school to high school age from around Fukushima Prefecture, as well as members of the NTT EAST Badminton Club. Launched in February 2001, "NTT EAST Badminton Classes"--in which participants receive instruction from NTT EAST Badminton Club players and coaches, play matches, and generally enjoy badminton for a day--are being held this year (2019) for the 17th time.
Class participants warming-up with the NTT EAST badminton players
"When I heard about the classes, I couldn't believe it at first--it was like a dream!" said Mr. Yuji Hashimoto, Chairman of the Fukushima Prefecture Badminton Association, recalling the first time the NTT EAST Badminton Classes were held. When NTT EAST first consulted the association about conducting badminton classes as part of the company's community contribution activities, Mr. Hashimoto--who was Vice-Chairman at the time--and everyone else in the association were overjoyed, unanimously agreeing that it was a "wonderful proposal". The association decided to proactively accept the offer, saying that, "Children rarely have the opportunity to see and experience top badminton players in action from close up." Mr. Hashimoto added, "The first time the classes were held, the children in particular were nervous, with some of them even hesitating or shying away at times. That's how highly the children idolize these players."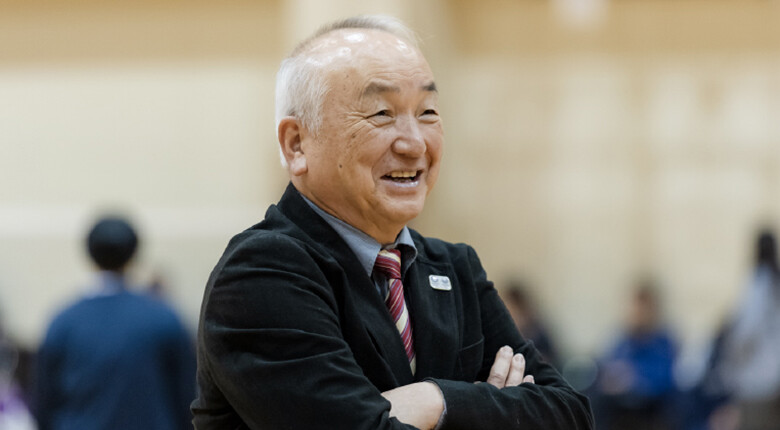 Mr. Yuji Hashimoto, Chairman of the Fukushima Prefecture Badminton Association
Mr. Hashimoto said that, when the classes were first held, it was inconceivable that they would become an established event, continuing for 17 years [so far]. He added, "I thought the class was just a one-off event, and so when NTT EAST contacted us again the following year saying that they wanted to hold the class again, I was truly surprised, and I never even dreamed that the program would continue for so long." Mr. Hashimoto also explained that each time the classes were held, the children appeared more and more relaxed.
Moreover, within the Fukushima Prefecture Badminton Association, the idea of utilizing these classes as a means of "nurturing players" began to solidify. Explained Mr. Hashimoto, "While I am sure that some saw the classes as a way to broadly convey the fun of playing badminton to many people, we regarded them as a means of providing opportunities for children who want to become even better players to interact directly with top badminton players and watch them playing close up, thereby raising the standard from badminton in Fukushima Prefecture." We therefore decided on a system of selecting class participants from elementary school, junior high school, and high school badminton federations. "This was also possible because NTT EAST made the classes an ongoing event." Mr. Hashimoto's desire to "raise the standard of badminton in Fukushima Prefecture" is beginning to bear fruit in various forms.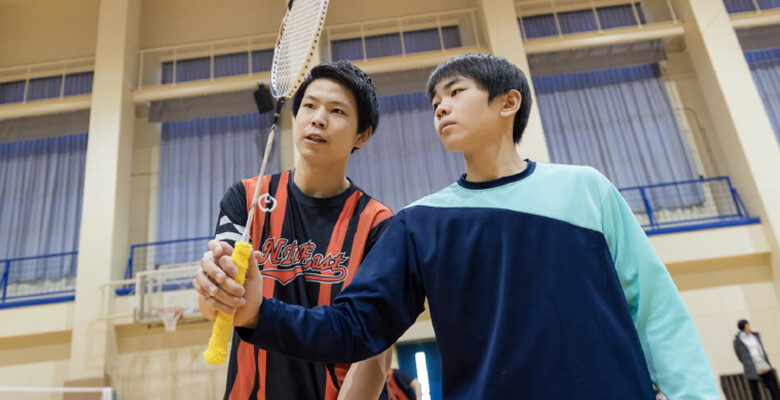 Beginning with basic skills, participants were taught carefully and thoroughly
Learning the "joy of teaching", leading down an instructor's path
Mr. Yuta Murakoshi--a teacher and coach of the badminton club at Teikyo Asaka High School--participated in NTT EAST Badminton Classes from his first year at junior high school until his third year of high school. He confessed, "The first time I participated, I was shocked by how the top players played." He said that not only was he overwhelmed by the players power and speed, the likes of which he had never seen before, but he was also inspired. "Probably because of my feelings of aspiration, of wanting to become like those players, I think that my attitude towards my day-to-day practice also changed."
As he participated in more and more classes, growing and developing as both a badminton player and as a person, Mr. Murakoshi said that what he gained from the badminton classes also changed. "The classes became opportunities for receiving more concrete advice from players competing on the front lines, such as learning techniques in fine detail and the psychological mindset for competing," said Mr. Murakoshi. Through the classes, he also discovered the "joy of teaching". He explains, "The players all looked like they were really enjoying themselves when they were teaching, and I gained the impression that 'teaching looks fun'." Mr. Murakoshi continued playing badminton while at university in Tokyo, and hoped to continue being involved with badminton after he graduated. Wanting to experience for himself the "joy of teaching" he had sensed during the badminton classes, he chose the path of a teacher. These days he is involved in the organization and running of the NTT EAST Badminton Classes as an instructor. It is his hope that "students don't waste a single second and make full use of this precious opportunity."
Applying the inspiration from this day to everyday playing
For one male Second Year Teikyo Asaka High School student, this was the third year he had participated in the NTT EAST Badminton Classes. He said, "Up until last year, I was just watching with interest, thinking 'Wow, that shot was amazing!' but this year I have been able to think more deeply, wondering, 'How do the players decide what strokes to use as they're playing?'"
A female Shoshi High School First Year student had been looking forward to meeting NTT EAST Badminton Club member Ms. Sebun Nagai--who is an alumnus of Futaba Future High School in Fukushima Prefecture--saying, "When I was a junior high school student, she was a star player." She added, "She makes each of her strokes with tremendous care and precision. For me she is an excellent role model as I'm a power player and tend to be a bit haphazard." A male Urabandai Junior High School Third Year student said, "Today I learned about how to use my knees. I had realized that my center of balance always gets a little high, but the players taught me that I can lower my center of balance by using my knees to lower my butt, which was really enlightening."
For each of the participating children the class was a precious experience that inspired them tremendously. They are sure to put all they learned in the class to good use in their daily training and matches.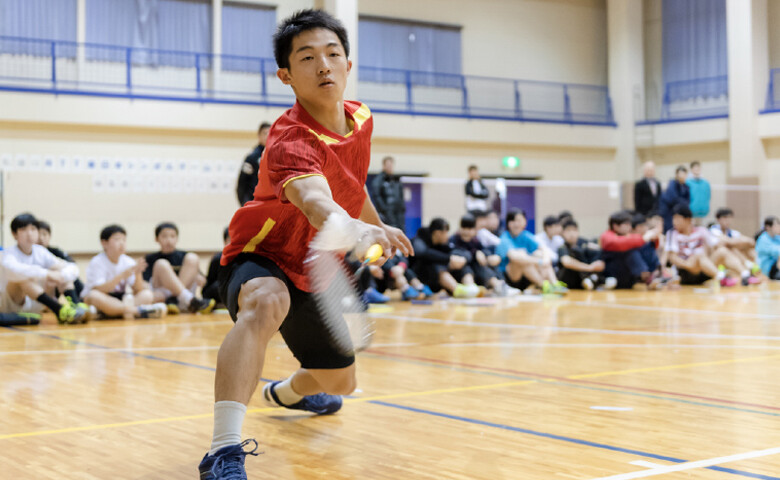 In "Challenge Matches" with top players, the children played in real earnestness
An opportunity to "repay my debt to Fukushima" and "return to my roots"
The NTT EAST Badminton Club player who acted as instructors for the badminton class had all been looking forward to this day. One player who was especially excited was Mr. Taichi Saito, an alumnus of Tomioka High School in Fukushima who participated in NTT EAST Badminton Classes as a high school student. The Great East Japan Earthquake struck when he was in his second year of high school, and he had the experience of having to move from his hometown of Tomioka to Inawashiro Town. He said, "After the earthquake, I was really concerned about whether or not I would be able to continue playing badminton, but I was able to continue playing thanks to the support of the people of Fukushima." Through this class, he hopes to repay his debt to Fukushima in a small way.
Adding that, "The effort I poured into badminton when I was at junior high school and high school has made me the person I am today," Mr. Saito said that he wanted to tell the children participating in the class to work as hard as they can right now, because those efforts will help them to develop into their future selves. He added, "I'm excited to see the kinds of future top badminton players are born from among this class's participants."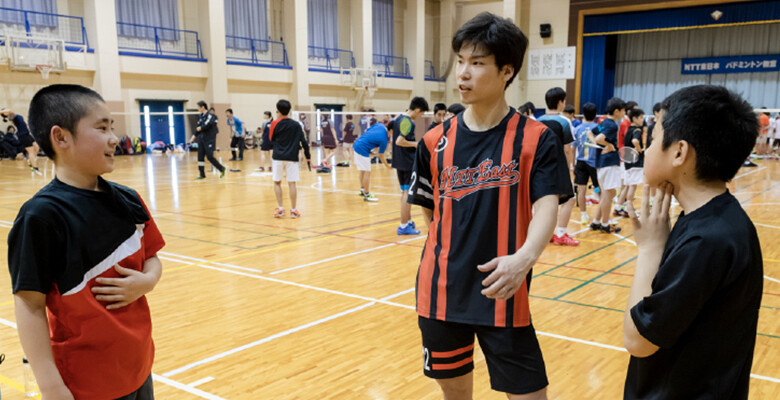 Children receiving advice from NTT EAST Badminton Club player Mr. Taiichi Saito
An alumnus of Futaba Future High School in Fukushima Prefecture, Ms. Sebun Nagai said, "The people of Fukushima have truly given us a warm welcome."
Ms. Nagai entered Futaba Future High School in 2012, after the Great East Japan Earthquake, having come from Niigata Prefecture. Initially daunted by life in the school dormitory, she said that she was eventually able to adapt thanks to the support of her schoolmates, badminton club friends, teachers, and others around her, including members of the local community. "When I was out running, local people would shout, 'Keep going!' and other encouraging things. I also participated in local events. Having spent my junior high school and high school years there, I feel that Fukushima Prefecture is my 'second home'." Ms. Nagai seems to have been inspired by the playing abilities of children participating in the badminton class for the first time. "The children were all so earnest and trying their hardest, I could tell that they were pouring all their effort into badminton. They remind me of how single-minded I was at the same age. I 'm grateful for this wonderful opportunity to return to my roots."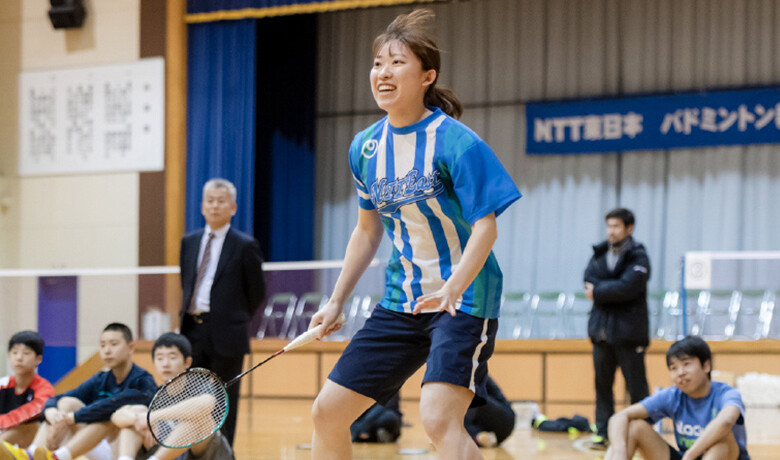 NTT EAST Badminton Club player Ms. Sebun Nagai takes on a young opponent in a "Challenge Match"
Tremendous value in providing unchanging support
Fukushima Prefecture Badminton Association Chairman Hashimoto said, "There is tremendous meaning in providing continuous support over a long period of time." The Great East Japan Earthquake occurred in 2011. "For badminton in Fukushima, too, it was a very difficult situation. There were children who were forced to quit badminton, and there were some schools that had to suspend student club activities all together," explained Mr. Hashimoto, who naturally thought that the NTT EAST Badminton Classes would also be cancelled. When he received a message asking, "Shall we hold the classes again this year?" he recalls that he was very surprised, but also very happy. Providing continuous, unchanging support--before or after the earthquake--holds immense value for the region and for the children. Fukushima's badminton classes are developing into invaluable "treasures" for both the people of Fukushima and NTT EAST.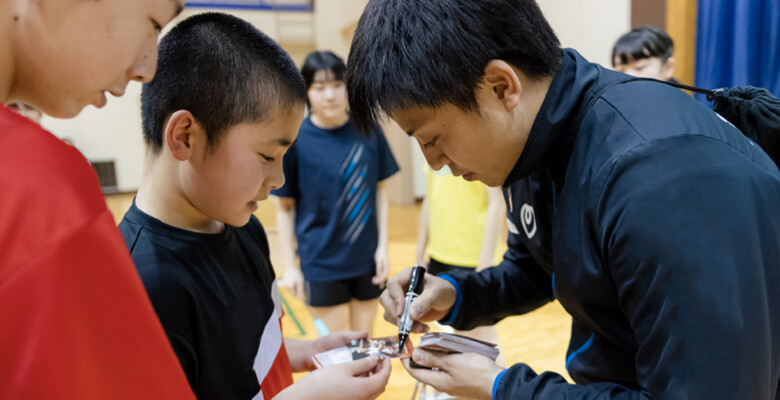 A memorable day interacting with idolized players